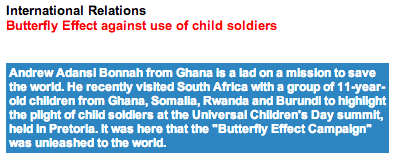 Andrew is no ordinary 11-year-old schoolboy. While boys his age are thinking about playing with their mates after school, he's busy thinking about how he can save the world.
This feisty Ghanaian lad has many notches under his belt. Of significant note, he  launched a global campaign called "Save Somali Children from Hunger". His plan with the campaign? Andrew wished to raise $13 million to provide food, medicine, clothes and education to the children of Somalia. 
He has been so instrumental in issues affecting young children, that after watching television images of the ravages of war and famine and the havoc it wreaks, Andrew vowed to work towards advancing global efforts to bring the horrific plight of girl-soldiers to an end.  
Being appointed as Goodwill Ambassador for Girl Soldier Eradication in Africa, Andrew and 20 other children from Africa made their way to the The Universal Children's Day summit.
Butterfly Effect Campaign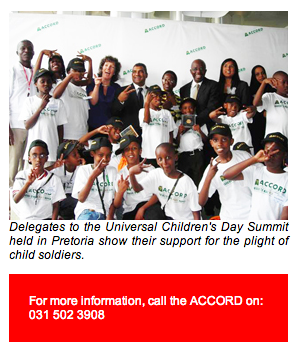 Hosted by the Durban-based African Centre for the Constructive Resolution of Disputes (ACCORD), in partnership with the Office of the Resident Coordinator of the United Nations in South Africa, the International Conference on the Great Lakes Region and the Royal Norwegian Embassy in Pretoria, the summit's focus was on girl-child soldiers used in armed conflict on the continent. 
At the event, ACCORD launched the "Butterfly Effect Campaign", to mobilise young people all around the world to campaign for the eradication of the use of child soldiers.
The campaign's goal is to create millions of child "butterfly" ambassadors across the globe - who will just like butterflies flutter into the world to campaign for the eradication of the use of child soldiers. 
At least 300 000 children are taught to carry and operate rifles and are actively fighting in at least 30 countries across the world, with at least two-thirds in Africa. 
They are recruited and are subjected to drugs, brainwashing, coaching and abuse. Forty per cent of child soldiers are girls who are also sexually exploited. 
In the past decade, around two million children have been killed in armed conflict, three times as many have been seriously injured or permanently disabled, and countless others have been forced to witness or even to take part in horrifying acts of violence. 
During the summit, Andrew pledged that he was ready to work to realise the goals of the "Butterfly Effect Campaign" promising new hope for African children.
"It is not a good thing for kids to murder, they should be in school. Parents must take care of their kids and make sure they're not used in war," he says passionately.
Child ambassadors
According to the campaign's Trisha Pillay: "The plight is on girl-child soldiers, because they are exploited most. ." 
And who better to pledge her support for the campaign other than the wife of former President Nelson Mandela, Graca Machel. 
"Children are not the cause of wars. Grown-ups cause wars. There is no place for children in war zones, " she said. 
"Despite some progress achieved in the global campaign to end the recruitment and use of child soldiers, large numbers of children continue to be exploited in war and placed in the line of fire. Removing child soldiers from the battlefront is of fundamental importance to humanity."
Protect our children
She urged all nations to make it their common duty to protect children, and more especially girls, from the theatre of warfare, in which they have no place.
"I have spoken to a child who was raped by soldiers when she was just nine-years old. I have witnessed the anguish of a mother who saw her children blown to pieces by land-mines in their fields, just when she believed they had made it home safely after the war. I have listened to children forced to watch while their families were brutally slaughtered." Machel said.
" I have heard the bitter remorse of 15-year-old ex-soldiers mourning their lost childhood and innocence, and I have been chilled listening to children who have been so manipulated by adults and so corrupted by their experiences of conflict that they could not recognize the evil of which they had been a part." 
As the campaign's butterflies flutter out into the world to put an end to children used in armed conflict, Andrew remains confident that one day the world will be a better and safer place for Africa's children.