Workbooks for learners were introduced by Minister Angie Motshekga in 2011 to provide organised work in the form of worksheets for every child in mathematics and language.
The aim of the workbook programme is to provide every child with two books of worksheets – one for numeracy/mathematics and one for literacy/language in the child's mother tongue. Each book contains 128 worksheets – one a day for four days of the week.
"Research points to a clear correlation between learner achievement and the richness of teaching and learning materials and resources," said Minister Motshekga. "This is why we have prioritised workbooks for learners".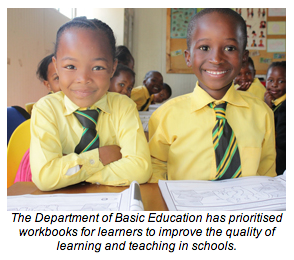 To increase the impact of the workbooks, the Department of Basic Education will expand the programme this year. In 2011, government printed workbooks for 6,5 million learners in Grades 1 to 6. This amounts to some 24 million books produced in all South African languages.
In the initial phase of the project the workbooks were provided to all learners in Grade 1 to 6. Literacy workbooks were provided in all 11 official languages. The numeracy workbooks are available for Grades 1 to 3 in all official languages and for Grades 4 to 6 in English and Afrikaans.
First additional language 
Among the changes to be introduced this year, is the provision of First Additional Language workbooks from Grades 1 to 6. This is designed to build English First Additional Language into the curriculum for three years to make it easier for learners to switch from mother tongue to English, which takes place in Grade 4.
The updated workbooks are designed to be interactive. They will focus on building learners' basic interactive language skills, but also aim to help learners to deal with using English as a language of teaching and learning when they switch languages in Grade 4.
Life skills
Life skills workbooks have also been developed for Grades 1 to 3 and for Grades 7 to 9. Language and Mathematics workbooks, as well as teachers' guides  will be introduced in English and Afrikaans. 
Basic Education Minister Angie Motshekga said from this year, all learners in Grades 1 to 3 will be required to Home Language, First Additional Language, Numeracy and Life Skills.
The introduction of workbooks for English First Additional Language in Grades 1 to 6 will help with this transition.
She said reports from teachers show that the workbook material is both "visually stimulating and exciting" and serves the purpose for which it was intended.