Following KwaZulu-Natal Premier Dr Zweli Mkhize's promise to KZN residents that complaints from the public about poor service delivery would be resolved, the Ombudsman's office assists the Presidential Hotline to follow up and resolve complaints from KwaZulu-Natal in addition to its normal duties.
One person who has nothing but praise for the Ombudsman's Office is Pretty Ntombela whose disability grant had been stopped because someone had registered her as dead with the Department of Home Affairs.
Happy to be "Alive"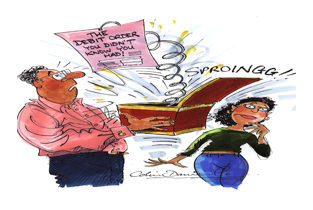 After approaching the Ombudsman's Office, Ntombela's problem was reported to the Home Affairs Deputy Director-General Vusi Mkhize, who made sure that her status was changed from "deceased" to "alive".
The South African Social Security Agency subsequently reinstated her disability grant. Happy to be officially declared "alive", Ntombela breathed a sigh of relief as this meant she would have an income again.
Heartfelt thanks
Mr Isaiah Dlamini and his business partner from Ndwedwe, north of Durban, also have praise for the Ombudsman's Office. Dlamini, who is a furniture manufacturer, had been awarded an R1 million tender to supply furniture to the Gauteng Legislature.
Even though the furniture had been delivered to the Gauteng Legislature, he received no payment for the last batch of the order worth over R700 000. After all his attempts to resolve the problem failed, he approached the Ombudsman's Office, which contacted the Chief Financial Officer of the Gauteng Legislature.  The outstanding payment was released with the help of the Secretary of the Legislature.
An elated Dlamini went to the Office of the Ombudsman to express his heartfelt thanks for their assistance in person.