One option might be to further your learning after school at a Further Education and Training (FET) college.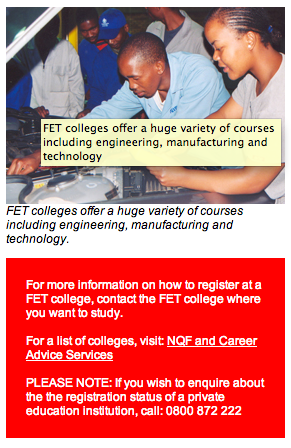 If you decide to apply to a FET college, you can expect to gain both practical and theoretical knowledge, exposure to your chosen industry, as well as a meaningful qualification without paying the kind of money that will land you in student debt before the launch of your career.
The FET sector, with its 50 colleges and 263 campuses spread across South Africa's rural and urban areas, is a major provider of skills-development training. The FET college system carries more than 200 000 students in public colleges and about 100 000 in private colleges.
What is FET?
The FET category of education and training is often referred to as post-school, that is, education and training that takes place after leaving school. You can study at FET level even if you have only completed Grade 9, but you must be serious about following an education and training programme with a view to acquiring marketable skills.
FET courses are vocational or occupational by nature, which means that the student receives education and training with a view to a specific range of jobs or employment possibilities.  The only age restriction to study at the FET level is that you should be 16 years or older.  
Public FET colleges are established and operated under the authority of the Further Education and Training Colleges Act and fall under the Department of Higher Education and Training.  
Public FET colleges are subsidised by the State with approximately R4 billion per year. Each province has an office that provides specialised professional support to the public FET colleges in that province.
Courses
FET colleges offer a very diverse range of courses with some colleges offering up to 300 different courses. These include industry fields such as agriculture; arts and culture; business, commerce and management; education, training and development; engineering, manufacturing and technology; services; building construction and security.
The length of the course and the admission criteria differs depending on the nature of the course. 
Bursaries
FET college bursaries from the Department of Higher Education and Training are administered by the National Student Financial Aid Scheme. If you want to apply for a bursary, you will be required to undergo a means test, which indicates whether you really need financial assistance. You must also have a good academic performance record.  
If you believe this is the way forward for you, contact the public FET College where you plan to study.  The college will provide the application forms and oversee the application process.