It focuses on 12 priority performance outcomes, which form the basis for performance and delivery agreements between ministers or groups of ministers and the president. They are: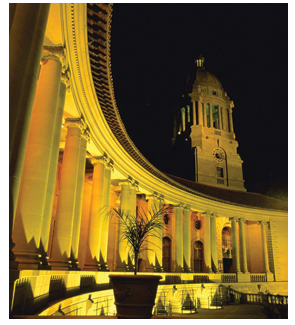 Improved quality of basic education.
A long and healthy life for all South Africans.
Safety for all people in South Africa.
Decent employment through inclusive economic growth.
A skilled and capable workforce to support an inclusive growth path.
An efficient, competitive and responsive economic infrastructure network.
Vibrant, equitable and sustainable rural communities with food security for all.
Sustainable human settlements and improved quality of household life.
A responsive, accountable, effective and efficient local government system.
Environmental assets and natural resources that are well protected and continually enhanced.
Creating a better South Africa and contributing to a better and safer Africa and World.
An efficient, effective and development-orientated public service and an empowered, fair and inclusive citizenship.
Great progress
Since the establishment of M&E, great progress has been recorded, with plans for the 12 priority outcomes developed, and quarterly monitoring reports on these outcomes provided to Cabinet. These reports allow the President and Cabinet the opportunity to assess progress and introduce interventions where necessary. 
Other areas developed have been systems for the monitoring of front-line services, and for assessing the management performance of government departments.
The latest element to be developed in the M&E toolkit is the evaluation component of the system. The National Evaluation Policy Framework has been drafted by a group of stakeholders coordinated by the Department of Performance Monitoring and Evaluation (DPME) and approved by Cabinet on 23 November 2011. 
The framework draws from the experience of a number of countries, and in particular from a study tour to Mexico, Colombia and South America undertaken in June/July 2011. Some of the key lessons to emerge from this study tour are the:
need for a system with standardised components
importance to link to the planning system (as you are evaluating against plans)
need for a common language around evaluation
need for a champion with technical expertise to drive the system
need for a suite of types of evaluations
need for evaluations to be independent and credible
need to ensure follow-up, so that the results of the evaluations are used.
Why is evaluation important?
Evaluations provide assessments that are based on evidence of the relevance and performance of programmes, policies or plans. This can inform ongoing implementation, as well as planning and budgeting processes. 
Evaluations also serve to strengthen accountability by providing reliable information on progress in the achievement of public objectives to stakeholders, often identifying the key factors driving success or failure. 
For example, in applying its evaluation system across government, Chile found that 51 per cent of programmes needed substantial revision. Failure to identify and address such problems will result in reduced implementation and effectiveness.  
Evaluation is currently applied sporadically in government and is not informing planning, policy-making and budgeting sufficiently, so we are missing the opportunity to learn from experience to improve government's effectiveness, efficiency and impact.
What approach are we taking?
We are undertaking evaluation for four reasons:
to improve performance
to improve accountability
to improve decision-making and
to increase knowledge about the area. 
One of the main things learned from the study tour was that evaluation should not only be seen as something which happens at the end of an intervention, but as a series of activities at different stages of our management cycle, starting before a policy or programme is designed.
These different types of evaluation should be undertaken at different stages of an intervention and provinces and departments will be expected to produce their own annual and three-year evaluation plans. 
Nationally, an annual and three-year evaluation plan will be produced, focusing in particular on large, strategic or innovative programmes. Departments will undertake these with support from the DPME.
Improvement plan
The evaluations in the national evaluation plan will be a partnership between the department and the DPME, led by the respective department. Following each evaluation, an improvement plan will be developed drawing from the recommendations of the evaluation, which will be monitored. 
The reports of the evaluations will be made available to the public, posted on the department's website and also the DPME's website.
-Harold Maloka, Ministry for Performance Monitoring and Evaluation in The Presidency