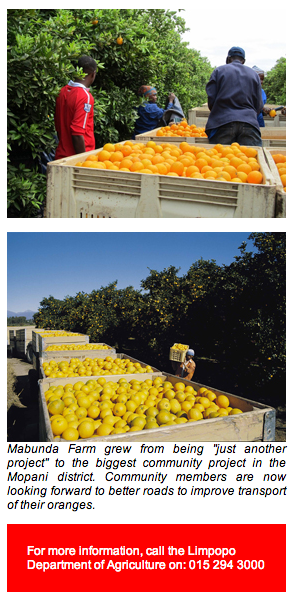 "It was just another project given to individuals – probably to grow some vegetables to sell and make a living from," explains project manager Benet Malungani. However, with 10 hectares each, the community realised that they could start a successful farming business if they pulled their resources together. So they joined forces to form a 300-hectare citrus farm.
Today, the project called Mabunda Farm is the biggest community project in the Mopani district agricultural sector and employs more people in the surrounding villages than any other project. It boasts 60 permanent employees and more than 300 seasonal workers, many of whom had no income before.   
Challenges
According to the village headman, Billy Nkuna, the project benefits the whole community. The Mabunda Royal Family earns R18 000 per season for renting the land, which is used to alleviate poverty in the village. "On top of that, it is also used to support schools in the area with computers and uniforms."
Project manager Malungani agrees that the project is doing great things in the community. However, he says they can do even better, but some challenges are standing in their way. "We could double the employment number if it weren't for the problems we have with storing and transporting our produce."
He said several brokers decided not to work with them anymore because the poor roads had damaged their trucks.
Commercial road
Appealing to government to build them a tarred road, Malungani said, "We now depend on one broker who charges an exorbitant fee to transport our products to the market. Last year, we sold 256 packaging crates. If it weren't for the gravel road, which squashes our oranges and weakens our market value, we could have made a bigger profit," he said. Better roads will also help them to put plans in place to expand their business, he added.
Meanwhile, Mopani district mayor Joshua Matlou said he would appeal to the MEC for Roads and Transport to tar the road as a matter of urgency to make business activities more viable. "This is what we call a commercial road, and it's very crucial that it's tarred. I will therefore urge the MEC for Roads and Transport to consider it."
-Collins Ndlovu