When phoning 08600 10111, members of the public are assisted by trained interviewing specialists to pass on information about criminal activity to the South African Police Service in a safe, non-threatening environment.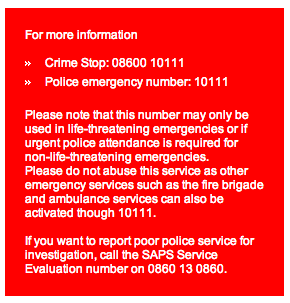 Crime Stop has enjoyed great success since 1994, solving more than a quarter of a million criminal cases and recovering more than 
R1 billion in stolen property and drugs. 
You can phone Crime Stop if you have any information about crime or suspicious activities, or if you think you have information that may prevent a crime or help the police investigate a crime which has already taken place.
The Crime Stop call centre operates 24 hours a day, seven days a week.
When you call, an interviewer will take down the details, and ask for as much information as you can remember about the crime, or suspicious incident. Callers are given a unique code number, which must be remembered. 
Callers can remain anonymous if they choose and therefore need not fear involvement or retaliation. This is vital to the success of Crime Stop.
Calls are not traced, and your number is not visible to the call centre. Your unique code  allows you to call back at a later time if you remember something further, or want to enquire about the case.