"I am so excited about the increase, it is not that much but it will make a difference. At least I will be able to buy school uniforms in January," said Sarah Nkomo, a domestic worker in Mbombela. Precious Nkosi, a contract cleaner at the Mbombela local municipality, urged the Labour Department to do inspections because some employers normally don't comply with wage increases.
"It will be a relief to most of us because food is very expensive these days, but labour inspectors must make sure that this becomes a reality because some of our colleagues don't get any wage increase," said Nkosi.
Labour Minister Mildred Oliphant announced the increase for domestic workers as part of an annual binding determination in line with the Basic Conditions of Employment Act.
Geographic areas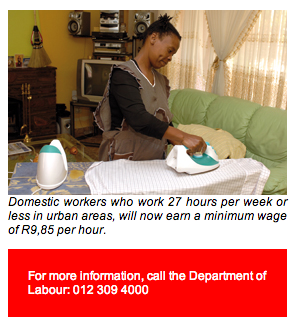 Domestic workers who work 27 ordinary hours per week or less in urban areas will now earn R9,85 per hour, which is an increase from R9,12 per hour. 
The weekly rate will increase from R246,30 per week to R265,94 while the monthly rate will increase from R1 067.15 to R1 152,32 per month.
Domestic workers in rural areas will now earn R7,06 per hour instead of R6,44 per hour. The weekly rate will increase from R290 to R317.62, while the monthly rate will increase from R1 256,14 to R1 376,25.
Contract cleaning
Contract cleaning sector employees' wages in rural municipalities will increase from R11,27 per hour to R 12,23 per hour. In urban municipalities, they will earn R13,51 per hour instead of R12,51.
Oliphant said the determination not only set the minimum working hours and minimum wages, but also a number of leave days and termination rules.
Employers
"Domestic employers who choose to ignore this Domestic Worker Sector determination and disregard the law must know that the department will be watching vigilantly," warned Oliphant.
"Employees are encouraged to report non-compliance at their nearest Labour Centres. The department will intensify enforcement of law during its routine and blitz inspections."
-BuaNews