His achievements, despite his disability, have turned South Africa's top wheelchair tennis player and champion Lucas Sithole, into a formidable role model for many young people. And, despite being ranked among the top 20 in the world, this tennis ace remains modest and humble. 
Last year, the Newcastle, KwaZulu-Natal-born wheelchair tennis player made history when he won the Melbourne Open Championships, competing against the world's strongest wheelchair tennis players in the quad division.
Inspiration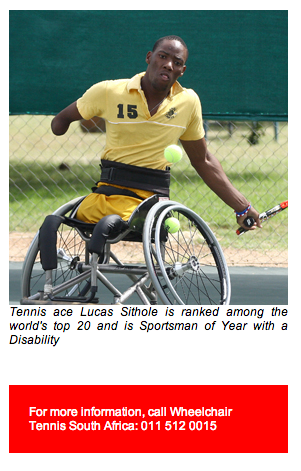 An inspiring quadriplegic, Sithole is Wheelchair Tennis South Africa's number one-ranked player and is ranked number 16 in the world. Sithole won the Sportsman of the Year Award in the Sportsman of the Year with a Disability category at the 2011 South Africa Sports Awards held at Sun City.
He also won the Disabled Sportsman of the Year Award at the inaugural Gauteng Sport Awards. Sithole described his winning the award as a great source of inspiration for him to qualify for this year's London Paralympics.
The 25-year-old wheelchair tennis champ is now based in Gauteng and is studying at the University of Johannesburg. He is also a member of the university's Performance Excellence Centre. Sithole was involved in a tragic train accident that left him a triple amputee at the tender age of 10. 
Honour 
"It was such an honour for me to receive those two awards and it felt so good to be recognised alongside such great athletes," Sithole said.  
"We're exceptionally proud of his performance and his determination is undoubtedly his edge," said Wheelchair Tennis South Africa director Holger Losch. He added that Sithole possessed the perfect mind and body for tennis. "Lucas is light and agile on the court with the ability to use his strengths to his advantage. He always plays to win."
Sithole has been through great adversity in his life and is a role model for many other athletes. According to Sithole, his attitude and approach to life has brought him this far and he has no doubt that these attributes will take him a great deal further both personally and professionally. The wheelchair tennis champion is definitely worth watching out for as South Africa prepares to compete in the 2012 Paralympic Games in London.
-Mbulelo Baloyi