n 2002, at the age of 11, Emily's left leg was amputated as a result of osteosarcoma – that is cancer of the femur. 
Chemotherapy had failed to reduce the cancer, so she had to make a life-changing decision, to either lose her leg or lose her life! After losing her leg, the outgoing and sport loving girl who loved surfing, backpacking, running middle distance races and hiking felt like her life had come to a grinding halt. 
Her supportive family, together with members of the community, introduced her to the Mandeville Sports Club to make sure she got back her positive sporting outlook on life. 
This was where she discovered her new passion: swimming. 
Paralympic team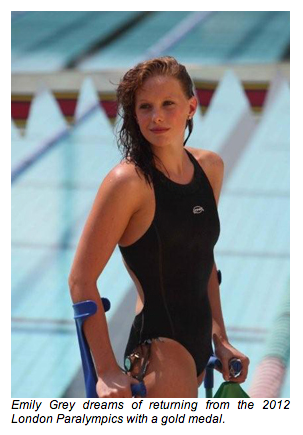 At Mandeville, Emily says swimming gave her a sense of freedom in the water. With the help of excellent coaches, hard training and great role models like Natalie du Toit, it took only a few years of swimming before Emily was recognised and selected to be a part of Team South Africa at the 2008 Paralympics in Beijing. 
So far, Emily has completed the annual Nedbank National Championship and broken national backstroke swimming records, as well as represented South Africa in England, Brazil, Holland, Australia and Taiwan. 
She says her best achievement to date is finishing 4th in the 400-m freestyle race in the 2010 International Paralympic Championship in Holland where she competed against top international female swimmers.
University colours
Emily's next goal is not only to qualify to participate in the 2012 London Paralympics but to return with a gold medal or two.
Emily is currently a student at the University of Pretoria and was awarded her university colours for swimming last year (2011). She is studying towards a degree in Sports Science and hopes to complete her degree with business studies. 
Despite her disability, Emily still lives a full life and accepts any challenge that comes her way.  As a result of Emily's achievements and positive attitude, she was appointed by Nedbank through the South African Sports Association for the Physically Disabled to be their brand ambassador where she visits schools across the country to motivate young people.
With all your heart
Emily has a positive outlook and believes that if you do something you should do it with all your heart. She describes herself as a quiet and determined person with a view that you need to get on with life and appreciate all the things you have, rather than what you don't have.
Her philosophy is that "Whatever you may do in life, do it to the best of your potential and you will never be disappointed with yourself". 
-Source: This Ability magazine