All of this, added to the pressing need in the country to identify and develop talented athletes, has led government to re-introduce Physical Education (PE) in schools.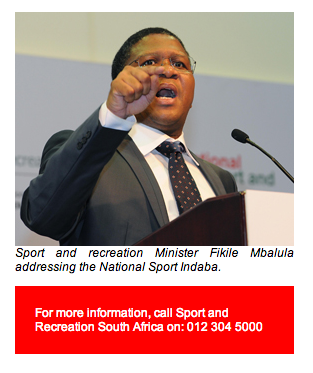 The Department of Sport and Recreation recently signed a Memorandum of Understanding with the Department of Basic Education to re-introduce PE in schools and the two departments announced a Schools Sport Programme partnership. 
Government is also working with the private sector and sport federations to put more resources in school sports to identify talent and create a base from which to build future sport stars in different sporting codes. 
At a National Sport Indaba held at Gallagher Convention Centre in Midrand in November last year (2011), the Minister of Sport and Recreation Fikile Mbalula said physical education would be practised in all schools resulting in school children broadening the talent pool.
Physical Education will be practised in all schools as a stand-alone compulsory subject and school sport will be compulsory on Wednesday afternoons and Saturday mornings. 
School Sport Programme
Millions of rands will be pumped in the School Sport Programme. Funding will also be sought from the National Lotteries Board (NLB). Minister Mbalula said he would seek R100 million from the NLB to buy sports equipment and build infrastructure in all schools.
He said this would be fair as Lotto money came from parents who buy Lotto tickets, but have nothing to show for it. 
The School Sports Programme will ensure that all primary and secondary schools in South Africa begin rolling out "Sport Wednesdays" when inter-schools activities would be held every week.
There will be provincial inter-school events and this will culminate in a first school sport Olympics. 
The Minister added that within 10 to 20 years, the programme should put South Africa in the same competitive standing as Australia, the United Kingdom and the United States of America.
-Mbulelo Baloyi