The training was an initiative of the National Skills Fund and auditing firm Deloitte. Driving government's key priority of job creation, the Government Communication and Information System (GCIS), in partnership with auditing firm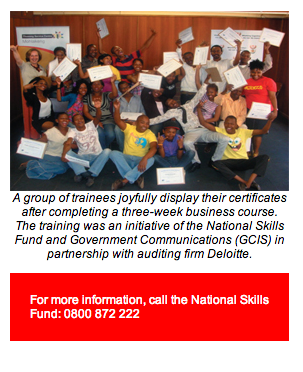 Deloitte, hosted a three-week training programme targeting unemployed youth in Randfontein, Gauteng.
The training sessions were held at the Mohlakeng Thusong Service Centre. GCIS, with assistance from Randfontein community development workers, identified and submitted a list of unemployed youth to Deloitte to be part of the training.
Selection
One of the criteria for participation in the programme was that it was open only to youth who had not yet benefitted from any of government's development initiatives.
Candidates who were selected underwent a gruelling interview with Deloitte to determine their suitability for the training. From the 63 names submitted for interviews, only 20 participated in the training.
Topics covered included Business Management, Business Development (incorporating Project Management and Time Management), Business Development Tendering, Communication Skills, Customer Care, Financial Management, Financial Life Skills, Human Resource Management and how to manage HIV and AIDS in the Workplace.
The objective of the training was to teach and encourage youth who are interested in opening their own businesses, about opportunities they can tap into to make their lives better.
Cooperatives
One of the successes of this project is that youth who attended the training, have decided to work together and form cooperatives where they will use all the information and skills learned during the training.
Speaking about what she has gained from the workshop, Beureldine Hendryhett, said, "I'm now an owner of a small business in Toekomsrust and I've learned to appreciate the people I work with. Good customer service is one thing that I will practise all the time as I have realised that without customers, I can never hope to make a profit in my business."
 Another participant, Themba Matshidiso said, "One thing I have taken from the workshop is that I have discovered that planning in business is very important. My level of thinking has changed drastically. Where once I believed that I had to wait for things to happen, I now look for opportunities I can use to make me successful in business."
-Matshidiso Mokoka