South Africa played a supporting role by helping transport ballot papers from our country, where they were printed, to the various voting stations in all corners of the large West African country.
The DRC's Independent Electoral Commission had requested the help of the South African National Defence Force (SANDF) with military planners, additional helicopters and other infrastructure to ensure that ballot papers were distributed to 63 865 voting stations, working with the DRC Defence force.
Up to the challenge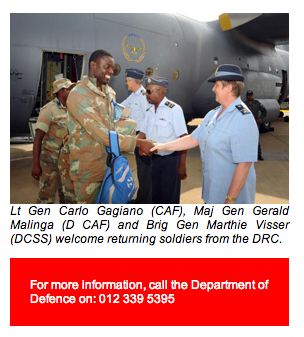 Chief of Joint Operations Lt General Derrick Mgwebi said while the process was not an easy one, the SANDF had been up to the challenge.
General Mgwebi said the ballot papers were initially meant to be delivered to 13 points in the DRC, but the number was increased to 210 hubs at quite short notice. From the 210 hubs, the ballot papers were distributed to the voting stations.
With a fleet of about 30 military aircraft, General Mgwebi's team managed to deliver all the ballot papers to all the voting stations, with help from the United Nations.
Asked how he felt about the exercise, the General simply said: "We had to assist when called. It was a satisfying experience."
Proud 
The team from the South African Air Force also assisted given their experience in assisting a country in its elections.
Colonel Mzayifani Innocent Buthelezi, Senior Operations Officer from South African Air Force Command (SAAF) Post, said the SAAF had deployed more than 30 members. He said there had been challenges in getting flight clearances as aircraft flew over the airspace of neighbouring African countries.
The SANDF soldiers returned to Air Force Base Waterkloof in December 2011. 
Defence Minister Lindiwe Sisulu said South Africans must be proud that the Defence Force was contributing to building and strengthening democracy in the continent. 
"To the Chief of the SANDF, and all our soldiers deployed in the Congo, we are proud of you, and the people of Congo will never forget the role you played in this important election," she said.
Peace
The African Union and the Southern African Development Community declared the elections free and fair. The SADC Election Observer Mission had deployed 198 observers in 10 provinces.
In his capacity as the Chairperson of the SADC Organ on Politics, Defence and Security Cooperation, President Jacob Zuma congratulated the people of the DRC. 
He said they had shown determination to consolidate peace, enhance national reconciliation, boost the democratic process and lay the foundation for lasting peace as well as economic and social development. He impressed upon them the need for sound leadership and unity going forward. It was the second democratic presidential election since the country attained its independence in 1960.  
-Edwin Tshivhidzo