International relations
African media houses have been urged to popularise the African Union Agenda 2063 and hold leaders accountable for its successful implementation.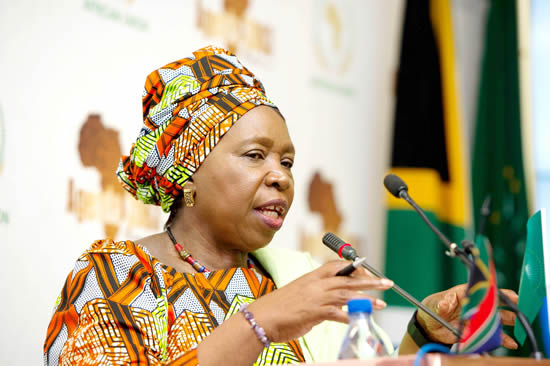 African Union (AU) Commission chairperson Dr Nkosazana Dlamini Zuma challenged media practitioners to ask themselves how they are implementing Agenda 2063 within their own space.
"It is very important for the media to communicate the agenda, to live it and hold the AU member states and governments accountable.
"It is all our agenda. We believe that the media and mass communications are critical to the success of Agenda 2063, especially in educating, informing and changing mind-sets so that we instil in Africans a belief in their ability to change their destiny," said Dr Dlamini Zuma.
As such, it is important that the media should be credible, responsible and responsive, Dr Dlamini Zuma said.
She was speaking at the start of the two-day joint sitting of the African Editors' Forum and Press Officers, in Pretoria, held under the theme, 'Deepening Africa's narrative and capacities to deliver Agenda 2063'.
The implementation of Agenda 2063 has started, Dlamini Zuma said, adding that the vision they are pursuing for Africa must be driven by its citizens.
Agenda 2063 is a strategic framework for the socio-economic transformation of the continent over the next 47 years. It builds on and seeks to accelerate the implementation of past and existing continental initiatives for growth and sustainable development.
The ideal continent that the agenda seeks in 2063 is a prosperous Africa, based on inclusive growth and sustainable development; an integrated continent, politically united and based on the ideals of Pan-Africanism and the vision of Africa's Renaissance; an Africa of good governance, democracy, respect for human rights, justice and the rule of law; a peaceful and secure Africa with a strong
cultural identity, common heritage, values and ethics as well as an Africa that is a global player and partner where development is people-driven, unleashing the potential of its women and youth.
The issue of media ownership and freedom of expression of the media was also highlighted by Dr Dlamini Zuma, who called for telling the African story as opposed to relying on international media with a set agenda. She also touched on the protection of journalists in African countries.
"Journalists should not be punished for telling the truth and our policies and laws must create frameworks for these rights and responsibilities," she said, noting that a lot more needs to be done.
The African Editors Forum (TAEF) President, Jovial Rantao, said they were keen to understand the agenda and help to popularise it.
"We want to emerge with improved knowledge of Agenda 2063 and a better understanding of the flagship projects. We want to leave Pretoria with strategies for improved participation and contribution to implementing the Pan-African agenda," said Rantao.