Local government
An innovative way of farming has been introduced in Johannesburg that will see people farming from the rooftops of buildings.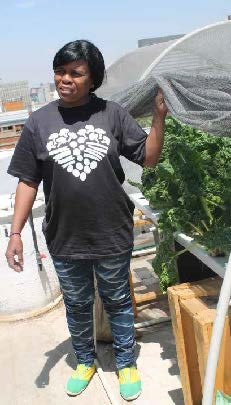 Unlike the traditional way of farming, which requires one to have a piece of land, hydroponic farming is a method which entails growing plants, fruit and vegetables using mineral nutrient solutions in water, without soil. The method, which uses less water, also recycles the water used when watering one's garden initially.
This farming method is already being used in Hillbrow, Johannesburg, and will enable people to farm fruit and vegetables throughout the year.
The project is a partnership between the City of Johannesburg and Ubuntu Business.
The hydroponic farming method addresses the lack of farming in urban spaces, the growing demand for food globally and the challenges presented by climate change.
Catherine Khambule, a hydroponic farmer, and other beneficiaries have produced more than 800 kg of vegetables so far. The vegetables are either sold or donated to underprivileged individuals or organisations.
"I decided to venture into farming because agriculture is the highest provider of food and, without farming, the human race cannot survive," said Khambule. 
Another farmer, Tiny Ngubeni, who was absorbed into the training project, said she loves farming but was never really successful at it.
"I started enjoying how to farm the minute I started using this method. It takes up less  resources and our vegetables grow quickly," said the mother of two, who added that the project enables her to put food on the table.
Speaking to Vuk'uzenzele, hydroponic farming training facilitator and Ubuntu Business founder Gary Smith said through the partnership with the City of Johannesburg and other strategic partners, a pilot project had been set up,  with which they hope to build a network of inner city rooftop vegetable cultivators.
"We teach and empower entrepreneurs to start and grow their own profitable and sustainable businesses.
"We recruited a team of 22 beneficiaries and took them though a six-month training programme in which we focused on operations, marketing and finance to help start up viable farming entrepreneurs," said Smith.