Local government
For a long time Queen Mnguni (54) shared a backroom with her two children in her parent's yard. Sharing the living space was challenging enough for the family of three, but when she lost her eyesight, over ten years ago, it made things even more difficult.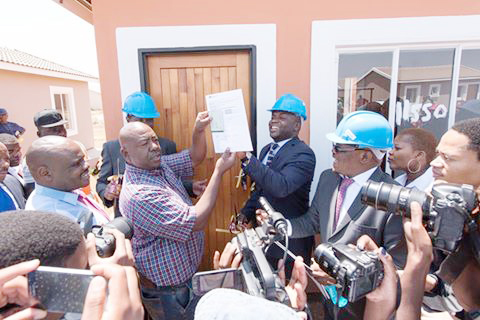 "It was not nice to stay in a backroom at my parent's house at the age of 54 because I felt deprived of my diginity," said Mnguni.
Mnguni's life has changed for the better as a result of a partnership between the City of Tshwane and the Gauteng Department of Cooperative Governance and Traditional Affairs.
"I am very excited now because God has answered my prayers. I would like to thank the government of Gauteng for giving me a place I can call home," said Mnguni.
Mnguni is one of many beneficiaries of the Nellmapius Extension 22 housing project.
The project forms part of the Mega City Projects in the Tshwane East Node and comprises of low-cost housing units for military veterans and rental stock.
The City of Tshwane also unveiled a high-rise dwelling housing project in Mamelodi East shortly after handing over 74 houses to residents in September.
The city, through the funding received from province, is embarking on phase two of construction, which comprises of 180 units.
"The objective was to come up with affordable, attractive and innovative responses to the urgent need for houses," said Member of Mayoral Committee Mandla Nkomo.
The beneficiary administration for phase two continues as per the allocation criteria applied in phase one.
This means that recipients of the constructed units will be from Mamelodi and Eersterust, who were registered on the housing demand database between 1999 and 2000.
The city has also taken a decision to allocate five percent of the units to people who fall under the category of special needs, which is in line with the National Housing Code. This category includes the elderly and people with disabilities.