Diabetes is on the rise in South Africa and the world, but early diagnosis and treatment can help to prevent dangerous complications.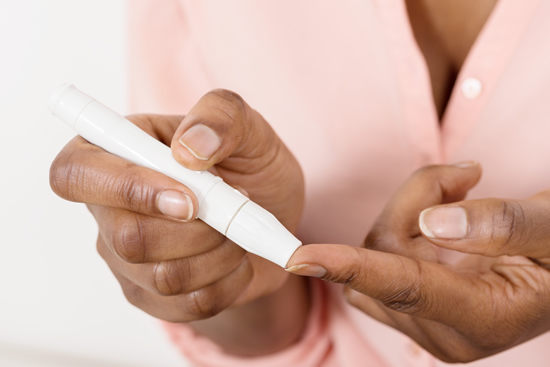 Diabetes occurs when the body fails to process glucose correctly. Glucose comes from the food we eat. Many people have diabetes mellitus, but remain undiagnosed.
Diabetes type 1 is a progressive autoimmune disease usually diagnosed in children and young adults; whilst diabetes type 2 can be caused by unhealthy lifestyle choices and usually starts in adulthood. Women can also develop gestational diabetes when they are pregnant. It is possible to live a healthy life by identifying the symptoms of diabetes early, receiving proper medical care and making healthy lifestyle changes.
World Diabetes Day is commemorated every year on
14 November.  This year's theme is 'Eyes on Diabetes'. The aim is to encourage
individuals to have themselves tested for diabetes and insulin resistance and to raise awareness about the disease.
What causes diabetes?
Diabetes is often caused by a poor diet, which is high in fat and carbohydrates. Refined, sugary foods can contribute to type 2 diabetes, by causing weight gain. 
Over three million South Africans are affected by either type 1 diabetes, which is often an inherited condition; or type 2 diabetes, which results when not enough
insulin is produced or the body fails to react to it.
Uncontrolled diabetes can lead to kidney failure, cardiac arrest, amputations and stroke, among other complications.
Common signs and symptoms:
Unusual thirst
Frequent urination
Unusual weight loss
Lack of energy
Blurred vision
Frequent or recurring infections
Cuts and bruises that are slow to heal, boils and itching skin
Tingling and numbness in the hands or feet.
These symptoms may not all be present, as they differ from person to person. If you have these symptoms discuss them with your doctor.     
*Supplied by Government Employees Medical Scheme.
Tips to help control diabetes:
Don't miss or delay meals

Monitor your blood sugar as directed by your family practitioner

Measure medicine carefully and take it on time

In consultation with your doctor, adjust your medication or eat additional snacks if you increase your physical activity.

Visit your nearest clinic to get tested.