Written by Marubini-Tshitahe
The days of walking 10 km to school are now a thing of the past for 16-year-old Waseem Keur of Crosby, south of Johannesburg.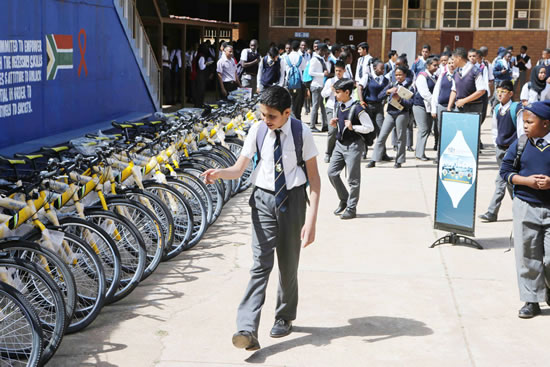 This is thanks to the Gauteng Department of Roads and Transport, which recently handed over 100 bicycles to Johannesburg secondary school learners.
Keur and his friends used to wake up in the early hours of the morning to be at school on time.   
The distribution of bicycles is part of the Shovakalula Bicycle Project, a national initiative of the Department of Roads and Transport, which seeks to provide ease of mobility to learners walking over 3 km between home and school.
Keur could not contain his joy as he rode his bicycle for the first time.
"I cannot believe I have my own bicycle; my parents couldn't afford to buy one. There is no way I'm going to be late for school."
The Shovakalula Project aims to promote cycling as a low-cost mobility solution to low-income households, targeting mainly scholars.
Johannesburg Secondary School Principal Alfred Jayson said they used to have a problem with late comers, but now this has been solved.
"Some of our kids come from as far as Soweto and they cannot afford transport fares. We are glad that the problem is a thing of the past."
To date, the project has donated over 30 000 bicycles throughout Gauteng to learners who meet the set qualification criteria, to give them easy access to learning institutions.