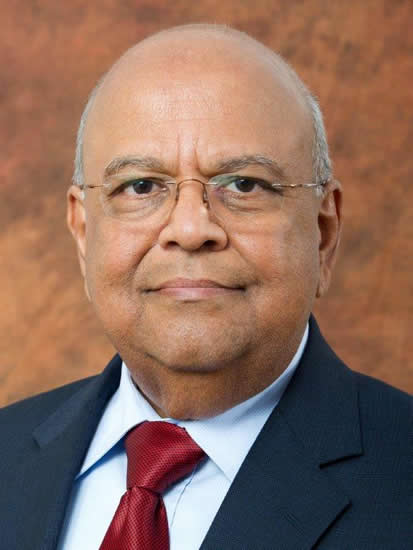 Minister Pravin Gordhan is the Minister of Finance of the Republic of South Africa, a position which he has held since December 2015.
About the Minister
Minister Pravin Gordhan was born in Durban and matriculated from Sastri College in 1967.
Minister Gordhan holds a Bachelor of Pharmacy from the University of Durban Westville, a Doctorate of Commerce honoris causa from University of South Africa, Doctorate of Law honoris causa from the University of Cape Town and a DTech: Business Administration from the Free State Central University of Technology.
He played a significant role in drafting the White Paper on Local Government which laid the foundation for developing local government authorities.
From March 1998 he served as Deputy Commissioner for the South African Revenue Service (SARS) and was appointed as Commissioner in November 1999.
He was appointed as the Minister of Finance in May 2009 to May 2014 and in the same year  he was appointed as the Minister of Cooperative Governance and Traditional Affairs. On 14 December 2015, he was re-appointed as Minister of Finance.
About the department
The Ministry of Finance is at the heart of South Africa's economic and fiscal policy development.