Written by Adziliwi Nematandani, Gauteng Province
Sports
South African cities are ready to battle it out in a bid to serve as hosts for the 2013 Africa Cup of Nations (Afcon) tournament. Although the tournament requires only four venues, 11 cities are hoping to be hosts.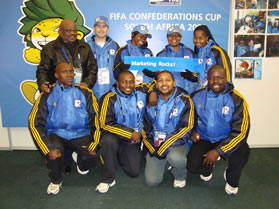 Libya was originally chosen to host the event, but pulled out owing to political turmoil in that country. The Confederation of African Football (Caf) then granted South Africa the opportunity to host the event four years earlier than planned and the South African Football Association (Safa) invited South African cities to bid.
Bidding cities
The bidding cities are Cape Town, Nelspruit, Ekurhuleni, Sedibeng, Tshwane, Mangaung, eThekwini, Rustenburg, Polokwane, Nelson Mandela Bay and Buffalo City.
Considering that seven of these candidates will have to fall by the wayside, it is not going to be easy for the bidders. Ideally, Safa would like to spread the matches around the country in order for fans to enjoy all parts of the country.
Interested cities won't be bidding for the semi-final and final games since that will be selected based on the Caf and the Local Organising Committee (LOC) internal selection criteria. Safa President Kirsten Nematandani said the main criteria for choosing the venues will be the host city's capacity which includes tourism infrastructure, bulk services and availability of match and training venues.
Unique flavour
"The host cities give the tournament its unique flavour and serve as the primary selling point for both the country and Caf," said Nematandani. All cities and venues will be given an equal bidding opportunity regardless of whether they hosted the World Cup or not, he added.
"Each host city is a self-contained delivery mechanism for the conduct of a successful tournament and we depend on them to ensure South Africa continues to be seen as a perfect host for big events," added Nematandani.
Other than the specific requirements of Caf, Safa intends to use all the elements of the 2010 Fifa World Cup since it serves as the current benchmark for big event organisation. These elements include the service of the volunteers.
"The volunteers are the bedrock on which successful big events are based and we intend to use a variation of the system used during the 2010 Fifa World Cup, given that it is a proven system for our country," Nematandani said.