North West is South Africa's best when it comes to emergency rescue service training.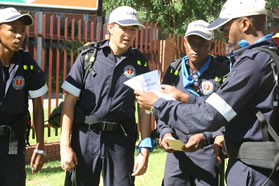 Before 2001, the North West province did not have a provincial college for Emergency Medical Rescue Services (EMRS). The province's Department of Health had to rely on costly private colleges for EMRS training.
Now, 11 years later, North West not only has its own EMRS college; it has become one of the best EMRS colleges in South Africa.
Since its founding, the Orkney-based college has expanded considerably. It now offers a variety of courses in emergency medical services and related health fields, while in the past it only offered a four-week basic ambulance assistant course.
Accredited
Over the last five years, the college has become the only one in South Africa accredited to present all 12 rescue courses. It currently has 801 students.
The rescue practitioner qualification consists of vehicle rescue, as well as fire search and rescue courses.  In addition, the college also offers aviation rescue, industrial rescue, structural collapse rescue, trench rescue and wilderness search and rescue courses.
Those who have completed all 12 modules of the rescue courses qualify to be called advanced rescue practitioners.   
Last year, at a national competition, two teams from the college won the titles for being the best high-angle team in the country and for the third best vehicle rescue team respectively. 
The college also sent a 10-man team to assist the earthquake victims in Haiti, where it rescued a woman who was trapped under rubble for more than seven days.
First
In April 2007, the college started the emergency care technician (ECT) course with 27 students. They were first to offer this course in South Africa.
In 2006, the North West Province had no operational paramedics. The province now has 90 ambulances and 30 response vehicles, which respond to public health emergencies.
The ECT course was developed to increase the number of paramedics in the country to maximise the response during the 2010 FIFA World Cup," EMRS College principal Rudi Mankveld said.
The ECT course, which forms the core of the college's courses, is presented to in-service staff and school leavers. Learners completing the course register as advanced life support paramedics. 
"The entry requirements for the ECT programme are a matric certificate, a valid driver's licence and residency in the province for school leavers. Selection criteria include a literacy and numeracy test followed by a physical fitness test," Mankveld explained.
From 1 500 trained ECTs in the country, 77 are employed by the provincial Department of Health, while 10 have just graduated and are being deployed.
For more information, call EMRS College on: 018 473 0324