The performance of learners in Mathematics and Physical Science must be improved to generate a skilled workforce.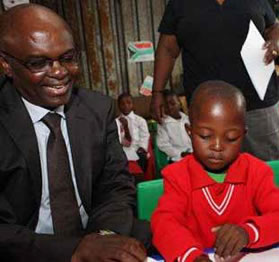 This will boost economic development and address socio-economic challenges, said Gauteng Finance MEC Mandla Nkomfe.
Addressing learners at the Dan Kutumela Secondary School in Zithobeni near Bronkhorstspruit in Gauteng, Nkomfe also handed out school uniforms to learners from poor families. The visit formed part of the Gauteng provincial government's Back-to-School Campaign, which included inspection of schools and interaction with learners and parents on the first day of the new school year.
Nkomfe encouraged learners to study Maths and Science to address the shortage of engineers, doctors, scientists and economists. He said Maths and Science could assist learners to study towards these professions and to contribute towards South Africa's economic growth. "As a province we are here to help you," he said, urging learners to ask for help from their teachers and principals.
The MEC also visited Hlolisisa and Sihluziwe primary schools where he interacted with teachers and members of the school governing bodies, and planted trees
Addressing the wider community during a radio broadcast on Kangala community radio, Nkomfe urged teachers and parents to work closely with government to improve the public education system.
For more information call the Gauteng Department of Education on: 011 355 0000