State of the Nation Address
Creating decent work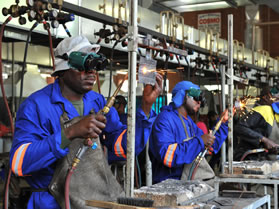 Government declared 2011 as the Year of Job Creation. Despite the difficult economic climate, the effort to create jobs continued in the public and private sectors.
These include large-scale developments such as electricity plants, rail and road upgrades and water management that will sustain between 50 000 and 100 000 jobs in construction up to 2015.
Other initiatives that government put in place included:
a R9-billion Jobs Fund to encourage new initiatives both inside and outside of government
establishing more  than  300  cooperatives under the Comprehensive Rural Development Programme
521 831 work opportunities were created by the end of October 2011 through the Expanded Public Works Programme (EPWP)
job opportunities for over 80 000 people under the Community Work Programme
15 132 jobs created under the LandCare, Forestry Operations, Micro-Agricultural Financial Institutions of South Africa, Working for Fisheries and Comprehensive Agricultural Support Programmes
a further 83 791 job opportunities created in all nine provinces across 63 municipalities in 480 wards between April and September 2011
600 EPWP jobs created through the Square Kilometre Array project. 
A number of agreements that commit government and various sectors to taking the country forward together were concluded. These included:
deepening partnership with Nedlac
a Skills Accord committing business and the State to enrol at least 30 000 artisan trainees over the next 12 months in training programmes
a Green Economy Accord between government and economic sectors, paving the way for new economic activity and jobs linked to our efforts to make South Africa more responsive to climate change
a Basic Education Accord in terms of which government, business and labour will work together to improve learning and teaching
a Local Procurement Accord committing social partners to work together to increase local procurement; the procurement regulations giving effect to this accord came into effect on 7 December 2011.
Compared to a year ago, employment increased by 343 000 (2,6%), according to the Labour Force Survey for July to September 2011 (Quarter 3).
Improving the performance of the state
Government introduced performance monitoring and evaluation to keep track of progress and to identify and deal with areas where delivery is not taking place.
President Zuma undertook five hands-on monitoring visits to Limpopo, the Eastern Cape and the Free State.
Teams from the Performance Monitoring and Evaluation Department in The Presidency were sent to areas such as Balfour, Bekkersdal, Umzimkhulu and others to assess and promote service delivery.
The Presidency and the offices of the premiers are jointly implementing a programme of monitoring front-line service delivery. The results of this programme will be regularly presented to Cabinet.
Government also continued to improve the National Population Register to record population statistics accurately, so that it can plan to meet the needs of the country's citizens.
Another achievement was the finalisation of the draft National Development Plan: Vision for 2030, which the National Planning Commission in The Presidency has released for public comment. The plan directly addresses the elimination of poverty and the reduction of inequality.
14 million households were visited as part of the 10-year Census undertaken in 2011. The aim of the census was to provide information such as the size, nature, characteristics and geographic location of South Africa's population.

In 2011, the Online Fingerprint Verification System was implemented, which saw the department signing a memorandum of understanding with the banking industry, through the South African Banking Risk Information Centre, to roll out the system in all participating banks. This system will enable banks to verify details of their clients through the Home Affairs National Identification System.
Growing infrastructure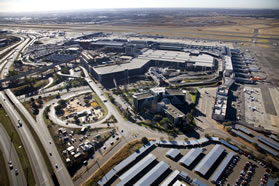 In 2010/11, the City of Johannesburg spent over R1,6 billion on the Bus Rapid Transport system. Cape Town spent over R70 million and Nelson Mandela Bay around R300 million.
The Gautrain is improving the lives of hundreds of people with the route to Tshwane that became operational in July 2011.
Nine regional bulk water systems were constructed in Limpopo, KwaZulu-Natal and the Eastern Cape, benefiting 744 000 people.
Strengthening cooperative governance
Cooperation with provincial administrations improved due to regular meetings between the President, premiers and local government representatives in the President's Coordinating Council.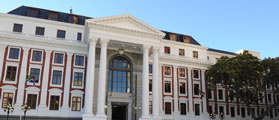 The various spheres of government are working closely together to strengthen the performance of certain departments in the provinces. Some examples of these efforts include:
a relationship with the Government of the Eastern Cape to revitalise education
in Gauteng, work is underway with the Provincial Government to improve the administration of health
focusing on the governance of roads and transport in the Free State
working with the Limpopo Provincial Government to improve the running of a number of departments, including the Provincial Treasury.
Fighting crime and corruption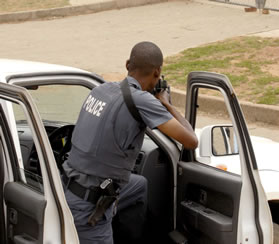 Government continues to roll out victim support rooms (VSRs) to support victims of violent crime, especially in cases of sexual offences, child abuse and domestic violence. The number of VSRs increased from 806 to 900 across the country.
Government has taken firm steps to build anti-corruption capacity in the Public Service through the creation of the:
Public Service Anti-Corruption Unit
Multi-Agency Working Group
National Anti-Corruption Hotline. 
The Anti-Corruption Task Team is investigating 45 corruption-related priority cases against 151 accused people. 
More than 20 proclamations have been issued by President Zuma, authorising the Special Investigating Unit to conduct investigations. Most of these focus on procurement-related irregularities, which is a priority for government.
Government has established the Commission of Inquiry into the Strategic Defence Procurement Packages, known commonly as the "Arms Deal". 
In fighting crime and corruption government's achievements in 2011 included, among other things:




-- Serious crimes dropped by 5,75% in 2011/12, compared to the same period in 2010/11. There were 149 659 arrests.




-- Contact crimes decreased by 9,65% in 2011/12, compared to the same period in 2010/11. There were 54 919 arrests.




-- The detection rate for contact crime increased from 53,46% to 56,99% and for trio crimes (vehicle hijacking, house robbery and business robbery) from 14,77% to 16,2% in 2010/11.
Improving healthcare
More than eight million people were screened for tuberculosis (TB) and, between April 2010 and June 2011, more than 300 000 people were placed on preventive treatment to stop the activation of TB.
In December 2011, government also launched the new National Strategic Plan to Fight HIV, Sexually Transmitted Infections and TB from 2012 to 2016.
Fighting HIV/AIDS




-- 13 million people agreed to be tested for HIV through the HIV Counselling and Testing Campaign




-- 2 948 public health facilities are now treating patients on antiretroviral treatment (ART)




-- 1,6 million patients had started ART by September 2011




All public health facilities in South Africa now offer services to pregnant women, which include HIV testing. A big achievement is the 50% reduction in the transmission of HIV from mothers to children between 2008 and 2010.
Rural development and land reform
One of the biggest success stories has been the piloting of the revitalisation of small rural towns. Two pilot projects are underway at Prince Albert Hamlet, Witzenburg Municipality in the Western Cape; and Dysselsdorp, in the Greater Oudtshoorn Municipality in the Eastern Cape.
Government launched the National Rural Youth Service Corp in Dysselsdorp. Over 7&nb000 young people from rural communities are participating in the programme, which includes training in disaster management, construction and information management.
Boosting education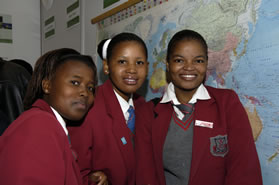 Some of the highlights include:
reaching 8,6 million learners with the School Nutrition Programme
printing and delivering a total of 24 million Grade 1 – 6 (Book 1 and 2) Language and Mathematics workbooks  to 18 854 public primary schools in nine provinces
providing around 2 700 learners with supplementary tuition in Mathematics, Physical Science and English during the 2010 academic year
the number of registered Early Childhood Development (ECD) sites increased to more than 19 000, and the number of children benefiting from ECD services to more than 790 000
in 2010, 210 592 students were supported in Further Education and Training college and university programmes through the National Student Financial Aid Scheme, amounting to R3,678 billion.
Providing social support
Social grants remain the cornerstone of the fight against poverty affecting children and older persons. These now reach more than 15 million individuals, compared to 2,7 million in 1994.
The Child-Support Grant was extended to children aged 16 and 17, which increased the number of children benefiting from the grant to more than 10,5 million.
In providing social support government's achievements in 2011 included the following:




-- 2 176 human settlement projects were approved.




-- 341 316 houses were completed.




-- 154 461 serviced sites were delivered.




-- Over 32 000 serviced sites were completed as part of the Informal Settlements Upgrading Programme.




-- Over 5 000 rental housing units were completed in 2011 as part of the drive towards accelerated delivery of housing opportunities.




-- 64 453 electricity connections were achieved in 2011/12.




-- 449 082 people were supplied with basic water supply between April and December 2011. By the end of the financial year, this number will have increase to 598 776 people.
Human settlements
The Informal Settlements Upgrading Programme has provided services in 52 383 sites.
From 2009 to June 2011, over 81 000 housing loans were granted, to the value of over R385 million, by the Rural Housing Loan Fund.
Building a better Africa and a better world
The African Agenda remained the key policy focus in 2011, with South Africa currently serving a two-year term on the AU Peace and Security Council.
 In August 2011, South Africa assumed the chairpersonship of the Southern African Development Community Organ on Politics, Defence and Security.
The world witnessed the birth of a brand new state, South Sudan, in which South Africa played a part. The country is currently involved in various peacekeeping operations.
A key challenge during 2011 was the situation around Libya. South Africa was principled and consistent in its efforts to help secure a resolution of the situation in that country, despite the unfortunate developments around the misuse of the United Nations' (UN) Resolution of 1973 which was meant to protect civilians. We will continue to work within the AU towards a solution in Libya.
South Africa participated in the UN and is a non-permanent member of the Security Council (UNSC) in 2011 and 2012.
President Jacob Zuma was the UNSC President in January 2012, which saw the adoption of Resolution 2033 that provides for closer cooperation between the UN and the AU.
The New Partnership for Africa's Development (Nepad) turned 10 years old in 2011. South Africa has played and will continue to play a leading role in developing and supporting Nepad. 
 The country hosted the fifth India, Brazil and South Africa (IBSA) Summit in October 2011. The IBSA trilateral development initiative aims to increase trade volumes between the three countries to US$25 billion by 2015. 
South Africa became a member of the BRICS (Brazil, Russia, India, China, South Africa) trading bloc in 2011, an international group of some of the world's leading emerging economies.
Developing sport
On the sporting front, the netball, rugby and cricket teams participated in international tournaments. They flew our flag high even if they did not win.
 Sport and Recreation South Africa hosted the National Sport and Recreation Indaba from 21 to 22 November 2011 to maximise the potential benefits of sport and recreation and to improve sports development in the country in a seamless and well-coordinated system.
The newly launched Integrated School Sport Framework will give children early exposure to diverse healthy physical activity.