State of the Nation Address
The President announced Transnet's Market Demand Strategy, which entails an investment over the next seven years of R300 billion in capital projects. The strategy will not only create more jobs, but will also position South Africa as a regional transhipment hub for sub-Saharan Africa and deliver on the New Partnership for Africa's Development's (Nepad) regional integration agenda. A total of R200 billion is allocated to rail projects and the majority of the balance to projects in the ports. Among the list of planned projects is the expansion of the Iron Ore Export Channel from 60 million tons a year to 82 million tons a year.
Infrastructre plans for the country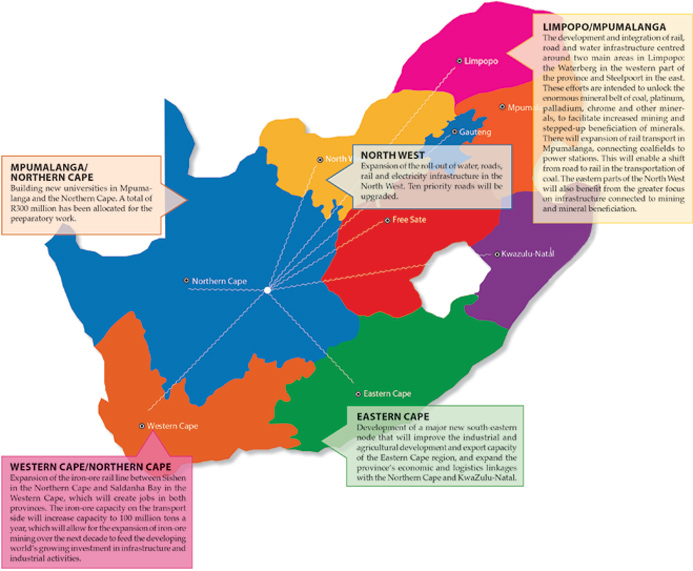 Mpumalanga/Northern Cape
Building new universities in Mpumalanga and the Northern Cape. A total of R300 million has been allocated for the preparatory work.
North West
Expansion of the roll-out of water, roads, rail and electricity infrastructure in the North West. Ten priority roads will be upgraded.
Limpopo/Mpumalanga
The development and integration of rail, road and water infrastructure centred around two main areas in Limpopo: the Waterberg in the western part of the province and Steelpoort in the east. These efforts are intended to unlock the enormous mineral belt of coal, platinum, palladium, chrome and other minerals, to facilitate increased mining and stepped-up beneficiation of minerals. There will expansion of rail transport in Mpumalanga, connecting coalfields to power stations. This will enable a shift from road to rail in the transportation of coal. The eastern parts of the North West will also benefit from the greater focus on infrastructure connected to mining and mineral beneficiation.
Western Cape/Northern Cape
Expansion of the iron-ore rail line between Sishen in the Northern Cape and Saldanha Bay in the Western Cape, which will create jobs in both provinces. The iron-ore capacity on the transport side will increase capacity to 100 million tons a year, which will allow for the expansion of iron-ore mining over the next decade to feed the developing world's growing investment in infrastructure and industrial activities.
Eastern Cape
Development of a major new south-eastern node that will improve the industrial and agricultural development and export capacity of the Eastern Cape region, and expand the province's economic and logistics linkages with the Northern Cape and KwaZulu-Natal.