Written by *Nozipho Dlamini
Despite being the smallest in size, Gauteng is South Africa'a most populated province.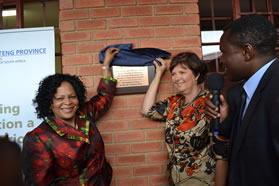 With more than 11,3 million residents, Gauteng is also the economic hub of South Africa and the continent. As such, the province attracts people from all over Africa in search of better lives, placing severe strain on its resources, including schools.
Take pride
To ease the pressure and overcrowding, 13 new schools were ready for occupation when the first school term started in January. A total of 36 new schools will have opened by March this year.
Department of Education spokesperson Charles Phahlane said half of these had already opened in January, 11 would open in February and seven in March. New schools include Diepsloot Secondary, Sakhisizwe Secondary and Sikhulisile Primary.
Phalane urged learners and communities to take pride in their new schools and to help keep them in prime condition.
Science and Maths
In the past year, the department also delivered 1 682 mobile classrooms to ease overcrowding. Phahlane noted that most of these schools came fully furnished with computer and science laboratories. This is in line with government's goal to improve learner performance in Science and Maths.
The Emasondosondo Mobile Science Laboratory launched in 2010 has proved that better facilities help to improve performance. The laboratory, which is a project of Sci-Bono and the Gauteng Department of Education, reaches 25 000 high school learners in the province.
"While the results of the project differ from school to school, some of the participating schools have shown an improvement of up to 25 per cent in Science results," Phahlane said.
*Nozipho Dlamini works for the Gauteng Department of Education