Written by Mbulelo Baloyi
Youth matters
The excitement of experiencing French culture, cuisine, couture and chic awaits a group of 10 young volunteers between the ages of 18 and 25 from the Western Cape. They left for France in late January as part of the National Youth Development Agency's (NYDA) French Exchange Programme.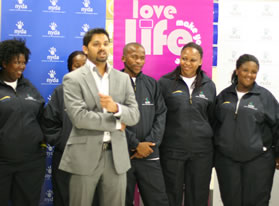 Through the French NGO CEMEA, the volunteers will be involved in social work and non-formal education, as well as cultural and after-school activities for youth development.
They will stay in the Burgundy region of France, which has an existing relationship with the Western Cape.
To help the volunteers adapt in France, the NYDA provided French language instruction and preparatory workshops. This was done with the support of the French Embassy and Alliance Française, an NGO that promotes French language and culture in foreign countries.
"I cannot even begin to explain my excitement," said 21-year old Amanda Centane from Langa in Cape Town. Centane is one of the volunteers and mother of a two-year old boy, Lunam who will stay with his grandmother during her absence. "I picture myself landing in a foreign country and being exposed to a brand new world of knowledge, excitement and, of course, style!"
Centane said she would really miss her family, but participating in the French Exchange Programme was simply an opportunity she could not turn down.
Commitment
LoveLife CEO Grace Matlhape thanked the volunteers for their ongoing commitment.
Addressing the group before their departure, Matlhape said, "What is really to be celebrated here today is the boldness and resolve of the 10 young leaders who have committed six months of their lives to building the communities of a foreign country the same way they have done at home."
As part of the exchange programme, a group of French volunteers will also have the opportunity to experience African culture. They will arrive in South Africa in July this year where they will be involved in non-formal education programmes and HIV and AIDS prevention.
For more information contact NYDA on: 0860 096 884