Know your Minister
With 240 small claims courts throughout the country, South Africans have a quick and cost effective way to resolve their disputes.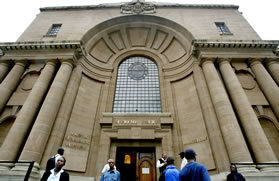 While there are small claims courts in all of the provinces, the Department of Justice plans to establish one small claims court in each of South Africa's 387 magisterial districts. "We still have to establish 147," said Department of Justice spokesman Tlali Tlali.
There are currently 35 small claims courts in the Eastern Cape, 33 in the Free State, 26 in Gauteng, 30 in KwaZulu-Natal, 27 in Limpopo, 26 in Mpumalanga, 19 in the Northern Cape, 18 in North West and 26 in the Western Cape.
Quickly and cheaply
Small claims courts usually deal with disputes such as money lent between individuals, claims over movable and immovable property, property occupation, promissory notes and credit agreements.
In small claims courts, claims are resolved quickly and cheaply. Those involved conduct their own cases without legal representation but legal assistants and clerks at the courts assist free of charge.
Claims can be lodged against individuals and companies, but not against the State.
Small claims courts have to hear civil matters involving amounts not more than R12 000.
The department, in partnership with the Swiss government, has over the past couple of years revitalised small claims courts throughout the country.
New courts
A number of inactive courts have been revived and new courts also established.
From April 2010 to March 2011, 26 small claims courts were established and a further 16 since April 2011.
Just like other courts, small claims courts are affected by jurisdiction. "This means that any party wishing to approach the court must go to the court in the area where the cause of action arose. In other words they must go to a magistrate's court or a small claims court in the areas where their legal disputes arose," Tlali explained.
For more information contact the Department of Justice and Constitutional Development on: 012 315 1111