Written by *Melitah Madiba
They used to live below the bread line, surviving on menial jobs, but today they are proud entrepreneurs manufacturing school uniforms for learners from underprivileged families. Their flourishing project is like a golden thread that benefits more than 250 learners from six schools in the area.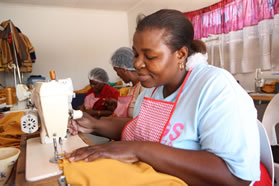 Mentloana Sewing Project from Hammanskraal, north of Pretoria is a five-member women co-operative appointed by the Gauteng Department of Health and Social Development to manufacture school uniforms.
Their breakthrough into the business arena was made possible by the Gauteng provincial government's commitment to prioritising women's access to economic opportunities.
Creating jobs
"We were racing against time to ensure we meet our target, so that when schools opened, we are ready with the uniforms," said Caroline Tlowana. The project was founded by Tlowana and Pauline Meno in 2008.
Before, Tlowana and Meno had to make ends meet by sewing for a few people in their community. But their fate changed when one day they came across a social development print advert looking for co-operatives to produce school uniforms.
"We immediately applied and a few weeks later we were very surprised to get a call that we have been appointed." Meno recalled. She said they started sewing for four schools, and because of the quality of the work they produced, the department increased the number to six. "We are very pleased with the addition of two more schools, as it has created jobs for three more people," Tlowana said.
For Khethiwe Ngoma, the project did not only help her put bread on the table, but also equipped her with business skills. "When I first joined the project, I had no idea how co-operatives and the business world operated. I have since learned a lot and my sewing and time management skills have improved," Ngoma said.
Lifeline
Members say they have received continuous training and have regular meetings with the department officials. "These meetings and trainings are very useful to us because that is where we discuss our challenges, do conflict management and share ideas on how to improve our business," Evelyn Setshedi explained.
"We are really grateful to the department for giving us a lifeline. Had it not been for them, we would still be living from hand to mouth," Setshedi added.
Setshedi encouraged other women to attend community meetings regularly and to participate in women's forums as "they are good places to find information". "By sitting at home and not participating in community meetings or imbizos, people miss many opportunities that might have been beneficial to them," Setshedi said.
This eager and determined group now aims to spread their wings and apply to the department to produce linen for government hospitals.
*Melitah Madiba works for the Gauteng Provincial Government