Written by Francis Hweshe
Policing should not just be a career but a special calling, said Deputy Police Minister Makhotso Sotyu.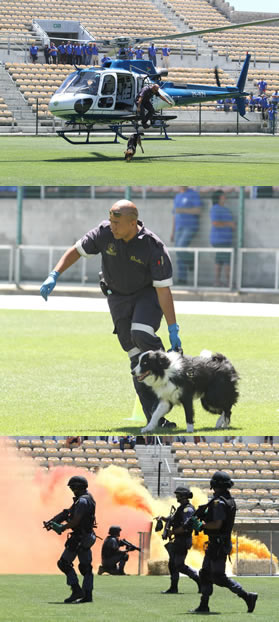 At the recent National Police Day celebrations in the Western Cape, Deputy Minister Sotyo, as the keynote speaker, saluted South Africa's men and women in blue for their courageous work in keeping South Africa safe.
Acting National Commissioner Lieutenant General Nhlanhla Mkhwanazi, Western Cape Commissioner Arno Lamoer and provincial Community Safety MEC Dan Plato were among the special guests who joined the Deputy Minister in marking this year's National Police Day.
Heroes and heroines
Hundreds of police officers gathered at Athlone Stadium outside Cape Town where Sotyu paid tribute to these heroes and heroines for their hard work in fighting crime and making South Africa a safer place.
"Thank you very much for what you are doing for the nation," she said.
The Deputy Minister also thanked the police for their role in securing recent high-profile events such as the COP17 climate change talks in Durban, and the ANC centenary celebrations in Mangaung in the Free State.
She encouraged young people to join the service, but emphasised that they should be dedicated to this calling and not join the service only because they were desperate for jobs.
First Police Day
National Police Day was first celebrated in South Africa on 27 January 2005 when the South African Police (SAPS) celebrated its 10th anniversary.
The day signifies the date and anniversary of the establishment of the SAPS and gives recognition to the service rendered by the police. It also honours those who have paid with their lives to keep South Africa safe.