Written by Mbulelo Baloyi
Presidential Hotline
Since its launch in September 2009, the Presidential Hotline continues to make a difference in the lives of many callers. By December 31 last year, 5 607 complaints had been successfully resolved out of the 120 306 calls logged. This translates into almost 80 per cent of all calls to the Presidential Hotline being resolved.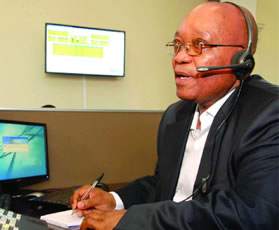 John Vermaak from KwaZulu-Natal breathed a huge sigh of relief after the Presidential Hotline had helped to solve his problem. A delay in clearing imports at the Durban harbour prompted this manufacturer of car parts to turn to the hotline for help.
A delay of more than two weeks at the Durban harbour to clear some of the imported raw materials used to manufacture car parts, resulted in a loss of income and productivity for Vermaak's company, Auto Component Manufacturing.
Several enquiries and follow-up calls to the South African Revenue Service's Customs Section revealed that no one seemed to know the reason for the delay and that nothing had been done to improve the situation.
Thoroughly frustrated, Vermaak decided to turn to the Presidential Hotline as a last resort. Hotline staff contacted the Customs Section and to Vermaak's great relief, all the imports for Auto Component Manufacturing were cleared within a short time.
Money in his pocket
A student from Zithobeni near Bronkhorstspruit in Gauteng was overjoyed when efforts by Presidential Hotline staff paid off with some money in his pocket.
Phasha Matjhiga turned to the Presidential Hotline when after many enquiries he didn't receive money due to him from a government department. Although he had been promised a stipend when he started his learnership at the department in August 2010, he didn't receive anything.
Soon after Presidential Hotline staff contacted the department, Matjhiga received his stipend back-dated to August 2010.
More than just chicken feed
When Ntombizodwa Sodiyazi, an emerging farmer from the Metsweding District Municipality in Gauteng, decided to expand her farming business in 2007, she approached the Gauteng Department of Agriculture for assistance. They promised that she would get funding in 2008, which she never received.
After many follow-up calls and enquiries, Sodiyazi called the Presidential Hotline for help. Hotline staff approached the Department of Rural Development and Land Reform, which led to the Metsweding District Municipality donating R117 000 worth of chicken feed. The Gauteng Department of Agriculture and Rural Development also assisted with 1 000 chickens, chicken feed, medication and disinfectants.
Sodiyazi had previously received support from the Department of Rural Development and Land Reform with a layer chicken structure that could hold 30 000 chickens which produced eggs every second day.
KwaZulu-Natal residents will be pleased to know that their Premier's Hotline is up and running; the number is 0800 KZN KZN (596 596)