Sports
Young girls who dream of wearing the Banyana Banyana jersey to represent their country overseas, now have a special role model to look up to.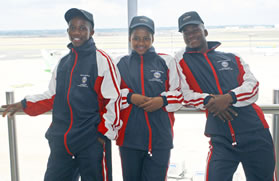 Refiloe Jane, winner of the Gauteng 2009 Future Players soccer identification programme has been selected to the squad that will compete at the 2012 London Olympics.
The Future Players soccer identification programme is a competition organised annually by the Gauteng Provincial Government. This year, it  was held in conjunction with the inaugural edition of the internationally acclaimed Future Champions Gauteng Under-17 tournament.
Refiloe is the captain of the Mamelodi Sundowns women's team and is one of 26 players called into camp by coach Joseph Mkhonza in preparation for the Olympics in July.
Talent
Congratulating Refiloe on her achievement, Gauteng MEC for Sport, Arts, Culture and Recreation, Lebogang Maile, said her elevation to Banyana Banyana is proof of the talent in the province and the effectiveness of the Future Players Gauteng soccer identification programme.
"Gauteng is a hotbed of football talent and the challenge for us is to unearth these gems and help them get exposure in the game," Maile said. 
"This programme has done that for Refiloe and I am quite sure there will be many more like her in the coming years,"
Kickstart
Refiloe started her journey as a Grade 11 pupil at Emshukantambo Secondary School in Pimville, Soweto.
"Winning the Future Players Gauteng soccer identification programme really kickstarted my career; it gave me so much confidence to believe that I can play for a top local side and even internationally," she said. 
"After joining Mamelodi Sundowns in late 2010, I put my head down and said to myself that I am going to give everything I have to try and make it into the Banyana Banyana squad," she said, adding that she was grateful that her hard work has paid off as she now has a chance to establish herself in the squad.
For more information contact the Department of Sports, Arts, Culture and Recreation on: 011 355 2500