State of the Nation Address special
The focus of President Jacob Zuma's State of the Nation Address (SoNA) on 9 February 2012 was on infrastructure development and how this would grow the economy and create jobs.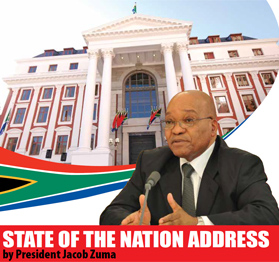 The SoNA is made annually by the President at the Opening of Parliament. In this important speech, the President tells the country what government plans to do in the year ahead.
The President announced that South Africa would spend billions of rands over the coming years on new infrastructure, namely building rail, road and economic links in five regions in the country; the building of new universities; and refurbishing hospitals.
"For the year 2012 and beyond, we invite the nation to join government in a massive infrastructure development drive," said the President. It is expected that this investment will grow the country's economy, and create skills and job opportunities.
The infrastructure plan will be driven and overseen by the Presidential Infrastructure Coordinating Council (PICC). The PICC, which was established in September 2011, is made up of ministers, premiers and metro mayors and is led by the President and the Deputy President.
The key projects mentioned by the President  include, among others:
developing and integrating rail, road and water infrastructure, centred around two main areas in Limpopo: the Waterberg in the Western part of the province and Steelpoort in the eastern part
improving the movement of goods and economic integration through a Durban-Free State-Gauteng logistics and industrial corridor
the expansion of the Iron Ore Export channel from 60  million tons a year to 82  million tons a year
developing a new major south-eastern node that will improve the industrial and agricultural development and export capacity of the Eastern Cape region, and expand the province's economic and logistics linkages with the Northern Cape and KwaZulu-Natal
expanding the roll-out of water, roads, rail and electricity infrastructure
10 priority roads will be upgraded
the expansion of the iron-ore rail line between Sishen in Northern Cape and Saldanha Bay in the Western Cape, which will create large numbers of jobs in both provinces.
"The work done last year indicates that if we continue to grow reasonably well, we will begin to write a new story about South Africa – the story of how, working together, we drove back unemployment and reduced economic inequality and poverty," said the President.