International relations
South Africa's Home Affairs Minister Nkosazana Dlamini Zuma will once again contest the position of chairperson on the African Union (AU) Commission in July after an earlier unsuccessful attempt.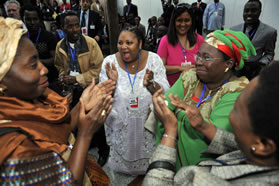 In January, Dlamini Zuma competed for the position with Jean Ping of Gabon. Ping was serving as chairperson and his four-year term was to end this year.
After three rounds of voting at the AU Summit in Addis Abba, Ethiopia, none of the two candidates managed to clinch the required two-thirds of votes to take up the position.
According to the AU's rule, the chairperson must get a majority of two thirds of votes from members with the right to vote, that is, member states that are not under sanction. If not, a following round is imposed automatically.
Malawi
Dlamini Zuma withdrew from the race after three rounds, but Ping, who dared a fourth round, could not win it, making him ineligible to run again next time.
The Commission decided to suspend the election and a new chairperson is expected to be elected at the next AU Summit.
Kenya's Erastus Mwencha is the caretaker chairperson until the next round of voting set for Malawi in July.
Dlamini Zuma has the support of the Southern African Development Community (SADC).
The SADC Extra-Ordinary Inter State Politics and Diplomacy Committee (ISPDC) said that Dlamini Zuma would contest the position again in July.
SADC
"SADC remains committed and united to its candidate for the Chairperson of the AU Commission, Hon. Dr Nkosazana Dlamini Zuma, Minister of Home Affairs of the Republic of South Africa," the Committee said.
The ISPDC said that the region remained committed to the threshold of two thirds majority of the election of the members of the AU Commission in accordance with the procedural rules of the Assembly of the Union.
"SADC urges the AU Assembly to conclude the electoral process for the AUC Chairperson as a matter of urgency."