Advice and Events
For many of us, long hours at work are now a thing of the past; we can spend our hard-earned bonus cheque and have some fun in the sun with our loved ones.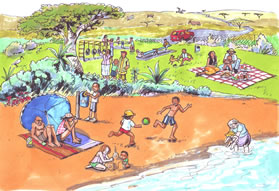 Yes, we deserve to spoil ourselves and our children after working hard for our money, but we must be careful not to get caught up in the festive season spending hype.
Entertaining children during the festive season need not be a major headache. There are many things to do with children that won't cost you an arm and a leg. Most South African cities and many towns have public parks, swimming pools and nature reserves with hiking trails and picnic spots where entrance is either free or inexpensive.
Children love playing outdoors and having picnics with their friends and families. If you live near the coast, a family outing to the beach is a must in summer.
Below are a few suggestions for affordable family fun.
Eastern Cape
If you're in the friendly city of Port Elizabeth you can reawaken the child in you by visiting Happy Valley at Humewood beach. Children will squeal with delight at identifying characters like Shrek and playing in the lush vegetation. Entry is free.
Free State
Take a walk of have picnic in the Botanical Gardens in Bloemfontein where entry is only R15 for adults and R7 for school children. Bloemfontein is well known for its roses, so you can also take a walk in the rose gardens in King's Park.
KwaZulu-Natal
KwaZulu-Natal's Amazimtoti beach just south of Durban promises sun and fun for young and old. Lifeguards are on duty and there is safe parking and restaurants. You can also take your children to the Amphitheatre Gardens, which boast a pond, fountains and sub-tropical plants. Entrance is free at the park located near the entrance to North Beach.
If your budget allows, visit uShaka Marine World theme park from R110 for adults and R85 for children.
Western Cape
Take the kids to the South African Museum in Cape Town, the oldest museum in sub-Saharan Africa. Entrance fees ranges from between R10 and R20. You can also visit one of the province's scenic nature reserves or beautiful beaches, many of which provide play areas for children.
Gauteng
Take your children the Pretoria National Botanical Gardens for a picnic. The entrance fee varies from R22 for adults to R8 for children and is free for children under six. Children love zoos, so visit the Pretoria or Johannesburg zoo. Zoo Lake in Johannesburg is a perfect spot for a picnic and you can also take a ride on a paddle boat.
Limpopo
In Limpopo, you can take your family to the Mokolo Dam in the Waterberg area where you can go fishing, camping or have a braai. Entrance for day visitors is only R10 for adults and R5 for pensioners and children.
Mpumalanga
Day trips to the Kruger National Park cost R48 per person. Sanparks advises that you book on 012 428 9111. You can also visit the Botanical Gardens in Nelspruit for a stroll among sub-tropical vegetation or a picnic.
Northern Cape
Situated near Oudtshoorn, the Cango Caves is a popular tourist attraction and a must see for locals. A standard tour will cost you R69 for adults and R33 for children.
North West
Visit Hartbeespoort Dam for a braai, a picnic or a walk, view some interesting creatures at the Snake and Animal Park, go fishing or visit the arts and craft market for affordable gift ideas