Making his voice heard in the fight against abuse of women and children during the 16 Days of Activism Campaign, is 25-year-old Samuel Ntsanwisi.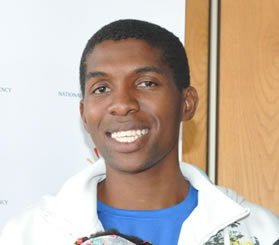 Samuel is a Durban University of Technology graduate who will run across four provinces to raise funds to build a multipurpose centre that will also house an orphanage in his home village in Nkowa-Nkowa in Limpopo.
His quest will be sponsored by the National Youth Development Agency (NYDA).  Seven other runners, including two women and three cyclists, will join him.
 "We work with a lot of children and we discovered that too many of them get abused including their mothers. Women and children were not designed to be punching bags but precious gifts to be loved, " said Samuel.
Along with the others, Samuel will run a total of 1 010 km from Durban to Limpopo for the duration of the 16 Days of Activism Campaign.