International relations
The Group of Twenty (G20) was established in 1999, in the wake of the 1997 Asian financial crisis, to bring together major developed and developing economies to stabilise the global financial market. Since its inception, the G20 has held annual meetings of finance ministers and central bank governors to discuss measures to promote international financial stability and to achieve sustainable economic growth and development.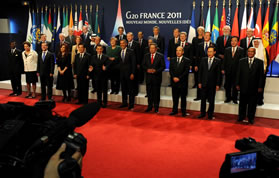 Issues such as infrastructure development in Sub-Saharan Africa and global food security were included in discussions at this year's G20 summit held in France recently.
President Jacob Zuma, accompanied by Finance Minister Pravin Gordan, joined delegates from other G20 member countries in Cannes from 14 to 15 October.
South Africa's focus was centred on issues such as investment in infrastructure, food security, domestic resources and global partnerships for financial access.
"We are encouraged by the commitment to deal with the current economic crisis, as well as undertakings to reduce imbalances in the world economy to promote sustainable, poverty-reducing and employment-creating growth,'' said President Zuma on his return from France.
The summit also made a commitment to focus on the youth largely affected by the global financial crisis, which is in line with South Africa's own domestic focus on promoting inclusive growth and decent jobs.
"There's a recognition that lack of jobs for young people brings social challenges and a decline in social cohesion," said Minister Pravin Gordan.
Mexico will be the next leader of the G20 and during its year-long run employment, as well as the needs of poorer countries will be one of the key focus points.