Written by Nelson Kgwete (DIRCO)
International relations
IBSA was formed in 2003 by the Brasilia Declaration, with the purpose of bringing together India, Brazil and South Africa to strengthen their position as developing nations and to enable them to act as part of the global arena. In addition, their status as middle powers, their need to address social inequalities and their consolidated industrial areas were also important reasons for closer collaboration.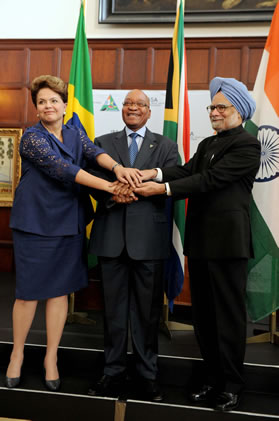 These countries are determined to make their voice heard internationally around common issues strengthen ties among themselves. In doing so, they aim to help restructure the global political, economic and financial issues and make these issues fairer, more balanced and based on an equal voice for all involved. The IBSA also aims to work together with less developed countries.
Common views
Three common traits characterise the IBSA countries: all three countries are vibrant democracies, share common views on various global issues and are emerging economies.
South Africa is a member of a number of countries with similar strategic political and socio-economic outlooks. All IBSA countries serve on the UN Security Council as non-permanent members. This makes it easier to work together with issues of common interest among the three countries.
The combined population of the three IBSA countries were 1.384 billion in 2008 with a combined average growth of 5.4%. Apart from promoting dialogue in the southern hemisphere, IBSA also promotes inter-regional cooperation.
The IBSA countries work together on three levels: heads of state and government, government-to-government and people-to-people cooperation.
Trade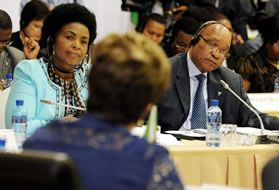 South Africa's trade with its IBSA partners has increased significantly since the forum's inception. The country's trade statistics for period 2007 to 2010 with fellow IBSA countries show an increase from R36,92 billion in 2007 to R58,13 billion in 2010.
IBSA has an open and flexible structure. It does not have headquarters or a permanent executive secretariat. At the highest level, it meets summits of heads of state and government.
The most recent summit took place from 18 to 19 October 2011, in Pretoria, which led to the agreement of the IBSA Dialogue Forum Fifth Summit of Heads of State and Government, Tshwane Declaration.
The IBSA countries work together on three levels: heads of state and government,  government-to-government and people-to-people cooperation.
Objectives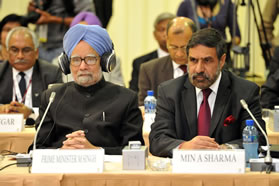 The objectives of this summit were to promote:
south-south dialogue, cooperation and common positions on global political and multilateral issues of importance
trade and investment opportunities between the three countries, as well as the exchange of information, expertise, technologies and skills
social development through poverty alleviation
cooperation in a broad range of areas, such as agriculture, climate change/environment, culture, defence, education, energy, health, human settlement, information society, public administration, revenue administration, science and technology, social development, trade and investment, tourism, and transport, and people-to-people cooperation.
Aims
The aims of the fifth IBSA summit were:
to reinforce the features of IBSA and its distinct role in the global arena
to promote coordination within multilateral forums
to leverage opportunities for South Africa's development agenda, notably infrastructure development
to promote the African agenda through strengthened economic co-operation.
Discussions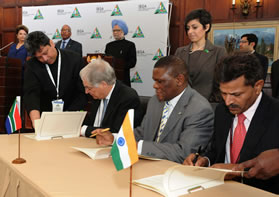 Issues discussed during the 5th IBSA summit, which are included in the Tshwane Declaration, were:
coordination in multilateral institutions such as the UN Security Council, BASIC, BRICS, G20 and the G77 as well as China to bring about change of global governance
sustainable development and climate change (COP17/CPM7, Rio+20, COP11 of CBD and COP/MOP6 of Cartegena Protocol on Biosafety)
strengthened economic cooperation
fulfilling the Millennium Development Goals
promoting and protecting human rights and the empowerment of women, children, youth and persons with disabilities
strengthening the African Union
addressing the situation in the Middle East and North Africa
supporting the IBSA facility for poverty and hunger alleviation through the IBSA Trust Fund.
Voice of Africa
As the IBSA Dialogue Forum approaches its 10th birthday and prepares to take on new challenges, the heads of state and government instructed ministers to review the work of the IBSA sectoral cooperation mechanisms and the IBSA facility for poverty and hunger alleviation. India has offered to host the 6th IBSA Summit in 2013.
South Africa will continue to promote participation in trilateral structures such as IBSA and multilateral cooperation in institutions such as the G20 and UN to make the voice of Africa heard on issues such as peace, security and development.