Determination and vigour paid off for a group of interns at the Mpumalanga Department of Agriculture, Rural Development and Land Administration (DARDLA). The cherry on top was when they recently received certificates in recognition of their hard work.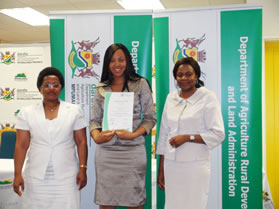 The interns who worked at the department for 2010/11 were selected from 1 000 applicants. The certificates will not only boost their confidence, but also their changes of getting permanent employment in future.
The internship programme is an intervention by government that deals with unemployment and skills shortages, especially among the youth. Young graduates are given opportunities to gain practical work experience thereby bridging the gap between work and study.
Hloni Thabethe from the DARDLA said, "The department is calling upon you to join us in creating a better life for the majority that constitute the workforce in the agricultural sector that has little access to primary healthcare, decent education and legal representation."
She called on government departments to make the public sector attractive to young people and to transform the industry, as well as the rural landscape of the province. "We know that young people are still faced with challenges in making an impact in the sector hence enterprise development is ongoing. "
A record 73 per cent of the students who participated in the internship programme were able to find employment.