Written by Mbulelo Baloyi
Know your Minister of Health
Preparations for the implementation of the National Health Insurance (NHI) are taking off in full force with Department of Health's launch of its Human Resource Strategy for Health.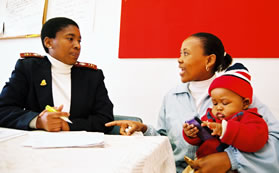 Speaking at the launch, the Minister of Health, Aaron Motsoaledi, said improving human planning, development and management was instrumental in the complete change of the health system.
The new human resource plan will not only focus on training of healthcare workers, but will also see fundamental changes in the Primary Health Care. As part of these changes, the department will send nurses to various schools in the country.
Health screening
"Our initial focus will be on the poorest schools where learners have limited access to health services. The nurses and other team members will screen the pupils in lower grades for hearing, vision and dental problems. Those learners found to be in need of clinical intervention will be referred to an appropriate facility.
"In high schools, the nurses will provide health education for sexual and reproductive health, with a view to address HIV prevention and the high number of teenage pregnancies. They will also deal with other social problems such as alcohol and drug use," the Minister said.
Specialist teams
In addition, the department will place district clinical specialist teams with the aim of improving maternal and child health outcomes at district level.
"These district teams will be made up of an obstetrician and gynaecologist, paediatrician, family physician, and an anaesthetist, all at principal level. With respect to nurses there will be a midwife, paediatric nurse and a primary healthcare nurse, all at advanced level."
The department will also place community health teams consisting of 10 people in all the municipal wards.
Flagship projects
An amount of R1,24 billion has been set aside to repair and replace old equipment at 122 nursing colleges throughout the country. For the training of other health professionals the Department of Health has a number of flagship projects.
These are:
a new medical school and a new academic hospital in Limpopo
the new George Mukhari Academic Hospital in Garankua near Pretoria
improvements at the Chris Hani Baragwanath Academic Hospital in Soweto
the new King Edward VIII Academic Hospital in Durban with a new faculty of medicine
Improvements at the Nelson Mandela Academic Hospital in Mthatha, Eastern Cape
a new academic training hospital in Nelspruit, Mpumalanga.