More than a 1 000 young volunteers have lent a hand to rebuild houses damaged in a devastating tornado in Duduza, Ekurhuleni. The tornado, which struck in October, left more than 160 people injured and homeless and an eight-year-old child dead.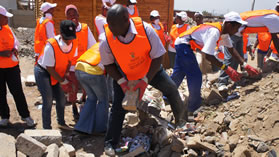 The volunteers, who are part of the National Youth Development Agency (NYDA), cooperated with the Ekurhuleni municipality and contractors under the supervision of contractors.
They removed rubble from building sites, steel from the building rubble, separated re-usable bricks from rubble; assisted with the distribution of food parcels, sorted relief supplies and helped with replanting trees around the community.
A helping hand
A group of approximately 300 of these volunteers completed the NYDA Accelerated Artisans and Skills Training Programme in March, which included training in electrical, plumbing, boiler making, welding, air conditioning and refrigeration skills. The remaining 700 volunteers are new recruits. The young volunteers will receive a monthly stipend, free transportation and meals for their help in rebuilding the community.
Volunteer Refilwe Nkosi, whose brother lives in the affected community, says she got involved because she saw how people were suffering in the community. They had lost their homes, belongings and everything they owned.
Refilwe asked her friends Nhlanhla Nkambule and Phumsile Radebe to come along and lend a helping hand as well.
"I am a little proud of myself and others for making progress in the area, I believe that God blesses the hand that gives more than the hand that receives and everyone can make a difference," she said.
Inspiration
According to NYDA CEO Steven Ngubeni, it is a selfless act for young people to assist those in need. "I take my hat off to you for taking time to assist these community members to rebuild their lives, you are an inspiration to other young people," he said.
The Ekurhuleni municipality has assessed that 692 houses were damaged, 174 of which need complete rebuilding and the remaining 518 to be repaired. It takes about two and a half days to build a house.
This initiative forms part of the National Youth Service Programme which is aimed at engaging young people in activities that develop and benefit their communities while acquiring meaningful and accredited skills that enable them to access economic opportunities for their sustainable livelihoods.
Please contribute
"We would like to encourage more South Africans, particularly young people, to contribute in any way they can. There is for instance a need for school uniforms, shoes, stationery, building materials, protective clothing for those that have offered to help with rebuilding, bottled water, paraffin stoves, disposable nappies and baby food," Ngubeni concluded.
You can play a part in helping by dropping off your donated items at your closest NYDA office.
For more information call the NYDA on 011 651 7175.