Written by Mbulelo Baloyi
2011 Year of Performance
In May 2009, the newly elected administration set up a new department called the Department of Rural Development and Land Reform to create viable, just and sustainable rural communities.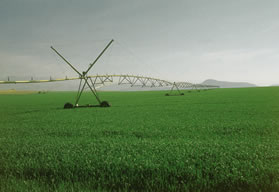 In August of the same year, the department launched government's Comprehensive Rural Development Programme (CRDP) at Muyexe Village outside Giyani in Limpopo. Since then, an additional 64 CRDP sites have been set up in the Eastern Cape, KwaZulu-Natal, the Free State, Mpumalanga and the Western Cape.
Government also bought 33 560 hectares of agricultural land to provide farmers with land to increase productivity and ensure food security for the rural communities.
In addition, the department took over 116 farms that had been given to beneficiaries of the land restitution programme to redevelop them so that they could become productive again.
This was done through the department's Recapitalisation and Development Programme. The aim of the programme is to make land reform projects more productive. To date, it is being carried out on more than 170 farms across the country. Thanks to the programme, more than 1 300 permanent and more than 2 700 short-term jobs have been created.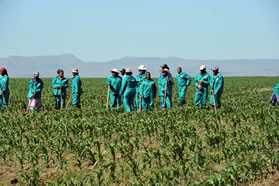 The department also provided jobs for more than 7 900 rural young people from different wards in various municipalities through its National Rural Youth Service Corps (NARYSEC).
These young people receive a monthly allowance of R1 320 and are trained by the Department of Defence in various disciplines. These include disaster management, construction and information management, household profiling, as well as skills development.
To assist families that do not have enough food, more than 6 500 households were given seeds and implements to start vegetable gardens. In addition, the Department of Social Development has been providing food to 10 600 households through its food distribution programmes in the form of food vouchers.