Written by Kemantha Govender
Youth matters
Eco-Schools programme is implemented by the Wildlife and Environment Society of South Africa (WESSA) and forms part of the international Foundation for Environmental Education (FEE), which looks at how children can be roped into helping to save the environment.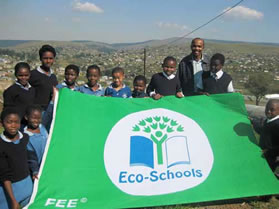 The WESSA/WWF Eco-Schools programme helps schools to use the environment as a learning tool through the national curriculum.
The programme's innovative "change framework" also aims to teach a new generation of consumers and leaders how to be part of the solution to the environmental challenges.
Seven steps
National Coordinator for Eco-Schools Bridget Ringdahl says that at least 1 300 schools have volunteered to be part of the programme nationwide.
"It's a simple, but effective concept, which has seen the programme grow consistently since its introduction to South Africa in 2003."
There is a seven-step process towards sustainable development within their institutions and in local communities.
In line with the national curriculum, the programme was adapted for South Africa at the Environmental Education and Sustainability Unit at Rhodes University as part of a peer-reviewed research process.
Passionate teacher
Rustic Manor Primary north of Durban has been a part of the Eco-School programme for almost seven years.
The school was fortunate to have an educator, Kritisha Rajcoomar, who is passionate about the environment and has an honours degree in the field.
Rajcoomar identified the need to cultivate environmental awareness among the learners and the staff soon got on board with her plan.
"When we started all we had was just one small food garden, but now we even have parents who choose to get involved by taking part in clean-up programmes," says Rajcoomar.
The school did a few audits to assess water and energy usage. They identified their shortcomings and devised an action plan which is still in operation.
Environmental learning
The South African Department of Education has adapted a strategy to include environmentally themed curriculums. When schools register with the programme, they commit to improving environmental learning and action through the curriculum.
Relevant themes are chosen by the learners and teachers, lesson plans are developed and school improvement plans and records of their progress are collected in a portfolio.
Some notable achievements at Rustic Manor include a food garden, which uses only elements of nature to grow vegetables and fruits.
Rajcoomar also got learners and teachers to recycle she has been collaborating with Durban Solid Waste to ensure that plastics and paper are recycled.
Waste material
In addition, the resourceful educator has helped her students participate in environmental market-day competitions where the learners showcase their goods made from waste material.
 "We teach them that money can be made from waste and these competitions also allow us to network with other schools," she says. "The learners are greedy for knowledge. It's therefore important to know how to get the information across."
Rajcoomar explains that picking up litter is seen as punishment for children who misbehave, but if you motivate them, they will understand how a cleaner environment would benefit them.
"Don't put out negative messages about the environment, rather tell them if the gardens in the schools are kept clean, they could have lessons outdoors," she says.
For more information contact the National Eco-Schools coordination team: Tel: 033 330 3931 or e-mail ecoschools@wessa.co.za