Communities in the Zululand District of KwaZulu-Natal no longer have to travel long distances to receive healthcare.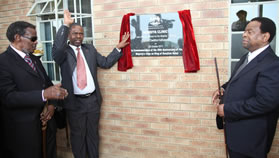 His Majesty King Goodwill Zwelithini accompanied by KwaZulu-Natal Health MEC Dr Sibongiseni Dhlomo recently opened Nomdiya Clinic in the Ulundi Municipality.
The clinic will play a major role in bringing much-needed healthcare closer to Zululand's rural communities.The opening coincided with the 40th anniversary of the reign of His Majesty as the King of the Zulu nation.
His Majesty, who addressed the community during the event, said the provincial Department of Health would ensure that quality healthcare was delivered in all rural areas.
Mayor of Zululand District Municipality Zanele Magwaza-Msibi and Dr Sibongile Zungu, who heads the provincial Department of Health, also attended the event.