Written by Sekgabo Kedijang
Are you an enthusiastic entrepreneur with solid business ideas? Are you between the ages of 18 and 35 and lack funding to put your ideas into practice? Then the Y-AGE programme is meant for you.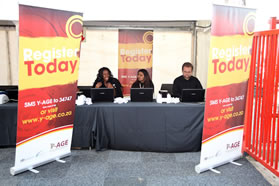 With high unemployment among the youth, young creative individuals should look no further than participating in the recently launched Y-AGE programme aimed at entrepreneurs aged between 18 and 35 who lack funding for their businesses.
Y-AGE, which is short for Youth and Graduate Entrepreneurship Development Programme, has been described as a turning point in the fight against unemployment.
One of the aims is to empower South Africa's youth to kickstart their businesses, which in turn will to more jobs. The programme which was launched by the Department of Economic Development together with the Gauteng Propeller, will not only benefit unemployed youths. It will also assist individuals with existing businesses in need of funding, as well as those whose businesses have collapsed due to a lack of funds. As part of the deal, they will receive training and mentoring to assist them in starting their own business.
Opportunity of a lifetime

Opportunity of a lifetime Y-AGE is currently targeting 100 000 young South African entrepreneurs with creative ideas and skills to start up their own businesses which will lead to the creation of about one million jobs. It will also see more business opportunities arising, stimulating a variety of job opportunities and encouraging more people to take part in the economy.
"This is an opportunity of a lifetime. If you snooze you lose. Do not blame government tomorrow that it did not do anything for you," said MEC Qedani Mahlangu.
Y-AGE fact sheet
Y-AGE is a public-private partnership created to respond practically to the need for job creation through entrepreneurship.
It is an entrepreneurship development initiative founded by three partner organisations – SACORD, Hope Africa and Oresego Holdings.
It aims to create 100 000 youth and women entrepreneurs by the end of 2012.
It aims to create 1 million new jobs through new entrepreneurial ventures.
It is a collaborative venture involving various civil society entities, together with the private sector, to help support the creation of these new jobs.
Y-AGE has the endorsement of the MEC for Economic Development in Gauteng.
The Y-AGE programme was piloted in Ekurhuleni where 10 000 young people were trained to run their own businesses.
The main focus of Y-AGE is to encourage public and private sector partnerships to share resources to expand entrepreneurship in South Africa and to create new jobs.
Funding for the Y-AGE programme comes from the Gauteng Economic Development Department, Services SETA, Private Commercial Funders and Private Service Providers.
R30 million has been allocated this year to stimulate the Y-AGE programme within the MTEF and to contribute towards the national target of five million jobs.
A working partnership has been formed with the Gauteng Enterprise Propeller as part of the contribution by the Department of Economic Development in Gauteng, to implement the programme.
Y-AGE is founded on a business model supported by research undertaken by the University of Johannesburg.
The Y-AGE programme is based on seven key pillars – research, recruitment, selection, training, funding, monitoring and evaluation, and mentorship and support.
50 per cent of candidates selected for the Y-AGE programme will be women and youth business owners, aged between 18 and 35 (graduates up to age 40).
There is rigorous screening process for successful Y-AGE programme entrepreneurs.
Training in 'New Venture Creation' will be given to each candidate entrepreneur to NQF Level 4 through approved, qualified service providers.
A monitoring and evaluation programme will identify progress with each entrepreneurial venture, providing assistance to ensure ventures perform to targets.
Industry specialist mentors are appointed to each entrepreneurial venture.
A governance structure has been created to ensure the appropriate management and operation of the programme.
Who qualifies?
To qualify for the programme, you need to meet the following requirements:
Selection process
You must be between 18 and 35 years old and have a firm business idea. You will also be considered if you have an existing businesses, but lack funding to
keep it going.
Commitment fee and registration:
Interested youths have to pay a commitment fee of R500 to be considered. They will then receive a learner contract, a Y-AGE banking account and a materials packs with programme schedules.
Training
Training is divided into two categories to
accommodate individuals according to
their skills development needs as follows:
Individuals who have no business
experience.
Individuals who do have business
experience.
Business plan evaluation
and funding
Individual business plans will be assessed before funding is provided with 20 per cent of the fund made up of a grant provided by the Development Funding Institution and an 80 per cent loan from the Financial Lending Institution.
Starting the business
Interested individuals with creative entrepreneurial ideas who lack funds are encouraged to register on the Y-AGE database, which will be available in large companies as well as various government departments.