From a young age, Gift Mafuleka was determined to become a farmer.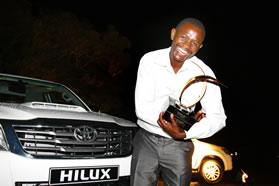 Thanks to a combination of opportunities presented by government and the private sector, Mafuleka's hard work, passion and dedication has made him the 2011 Toyota New Harvest Farmer of the Year – a title accompanied by a new Hilux Raider.
Commercial farmer
Mafuleka, from the Metsweding District, Leeuwfontein near Bronkhorstspruit was nominated for the award by the Gauteng Department of Agriculture and Rural Development.
He completed a two-year BTech degree in Crop Production before joining McCain Food SA as a crop manager where he was mentored by the company's agriculture team over three years.
Through the skills obtained during his time with the company, he was granted a long-term lease on his own farm. He is now a commercial contract farmer to McCain, supplying the company annually with peas and sweet corn.
Passion and commitment
According to Louis Wolthers, Managing Director at McCain, "Gift has sacrificed a secure income in his goal to succeed as a commercial farmer. This award and recognition from external agricultural role-players makes our team very proud of what he has achieved in a relatively short period.
"We know with certainty that with his passion and commitment he will continue to grow from strength to strength. We look forward to having him as a supplier for many years to come."
Talking about his success, Mafuleka said: "If you are passionate and determined about what you do, you can achieve your dream."
Mafuleka is one of only few young emerging commercial farmers near Bronkhorstspruit and his farm covers an area of about 342 hectares.
Born in Esikhawini in Richards Bay, KwaZulu-Natal, Gift's love for farming started when he was only 10 years old. Inspired by his grandfather who was a subsistence farmer in the area. Mafuleka says subsistence farming was the order of the day during his early years.
He now strongly believes that there is a need for more new blood from historically disadvantaged communities in the agricultural community.