Written by Mbulelo Baloyi
2011 Year of Performance
One of the programmes government uses to stimulate the economy is infrastructure development. At present, President Jacob Zuma chairs the Infrastructure Development Commission which oversees all major national projects. This includes monitoring their budgets and making sure that the projects are carried out. It also aims to improve the delivery of infrastructure.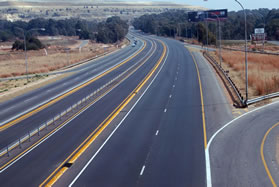 To date, around 60 new regional bulk water-supply infrastructure projects have been undertaken in different parts of the country. These include water treatment works, water supply schemes and wastewater treatment works.
These projects will also provide access to clean drinking water and sanitation. In his the State of the Nation Address, President Zuma mentioned two complaints he had received from residents of Bekkersdal, west of Johannesburg, and Umzimkhulu in southern KwaZulu-Natal. These residents were unhappy about the lack of service delivery in their respective areas.
In response, President Zuma promised to address their complaints. In Umzimkhulu, the existing 2,8 km sewerage pipeline is being upgraded and 41 new manholes and mechanical screens are built to prevent blockages. In May last year, a new water treatment plant was opened. The plant also supplies water to new areas benefitting more than 38 000 people.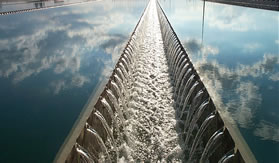 Also at Umzimkhulu, two reservoirs are under construction to increase the town's storage capacity, while improving water pressure and supply.
At the Thutlwane Water Scheme in the Ratlou Local Municipality in North West, the existing system of water supply of Setlagole including Thutlwane and Setlhwatlhwe villages was upgraded by three borehole projects. The boreholes are supplying a population of 22 835. This means a basic service level is met to provide each person with 25 litres of water per day within a walking distance of 200 m from each household.
In Bekkersdal, Gauteng, the Provincial Government has set aside R75 million for the Bekkersdal Urban Renewal Project. The national Department of Cooperative Governance in cooperation with the Department of Human Settlements working with the Gauteng Provincial Government have declared Bekkersdal a Priority Project. Several projects including provision of houses, water and sanitation, as well as other community amenities will be carried out in Bekkersdal.