International relations
International peace and security, democracy, good governance, sustainable development, debt management, education and the environment were among the issues discussed at the Commonwealth Heads of State and Government Meeting (CHOGM), held in October in Perth, Australia.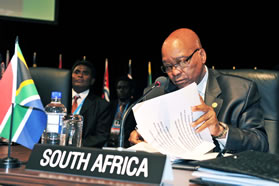 Every two years, Commonwealth leaders meet at a different location to discuss global and Commonwealth issues  including collective policies and initiatives.
President Jacob Zuma, who represented South Africa at the meeting, said the discussions at this year's meeting were in line with South Africa's Constitution and the country's foreign policy objectives.
Equal status
The Commonwealth of Nations, normally referred to only as the Commonwealth and formerly known as the British Commonwealth, is an intergovernmental organisation of 54 independent member states. All of these countries except Mozambique and Rwanda, were formerly part of the British Empire from which it developed.
The member states cooperate within a framework of common values and goals as outlined in the Singapore Declaration. The Commonwealth is not a political union but an intergovernmental organisation through which countries with diverse social, political, and economic backgrounds are regarded as equal in status.
Issues discussed at the recent summit related to trade and investment opportunities, strengthening people-to-people relations and promoting shared values. With the Theme "Building National Resilience, Building Global Resilience" the meeting focused on food security, climate change, mining for development, wiping out polio, sustainable development and strengthening the Commonwealth. This included promoting Commonwealth values such as democracy, the rule of law and human rights.
Benefits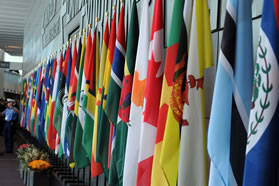 South Africa became a member of the Commonwealth in 1931, but was expelled in 1961 as a result of the previous government's apartheid policies.
During the anti-apartheid struggle, the Commonwealth played an important role in lobbying for the end of racism and contributed to the mounting international pressure placed on the apartheid government.
This legacy of support was an important factor in South Africa's decision to rejoin the Commonwealth following the election of the first democratic Government in 1994.
South Africa's current membership of the Commonwealth has various benefits such as contributing to advancing South Africa's national interests and providing a platform to create a "better Africa and better world" through the promotion of democracy, human rights, free trade and world peace.