Written by Kemantha Govender
Government's first ever "green" building is likely to receive a five-star rating for adhering to strict environmental requirements.
The KZN Public Works building is located on the outskirts of Ixopo and will house government offices on a 7,6 hectare site. It is also benefitting the local community by providing jobs and improving skills.
The building has reached the halfway stage in the construction process and when completed will ead the way in the green building design for future infrastructure projects.
Green star
The project is registered with the Green Building Council of South Africa who will assess the building before issuing a Green Star Design Rating. If this building receives the rating, it will be the first for any government building anywhere in South Africa.
MEC for Public Works and Human Settlement Maggie Govender visited the site recently and was pleased with the development.
Govender with a media delegation were given a tour of the building with architect Steven Kinsler explaining the low energy efficient building design.
Indigenous plants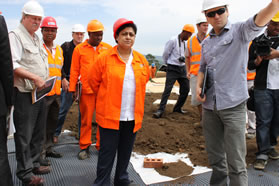 The building is expected to be completed next May and will boast a spectacular roof garden that will contain 70 indigenous plants.
Govender explained that there is not much difference in terms of money spent on this building copared to traditional building methods. However, there will be "tremendous" savings later on.
Rainwater will be harvested and used for the garden and toilets, reducing the water consumption from the municipality.
Posters
There will be posters about how to make use of the building which will use alternative electricity. It will have renewable on-site energy generation through photovoltaics.
Photovoltaics, called PV for short, is a method of generating electrical power by converting solar radiation into direct current electricity using semi-conductors that exhibit the photovoltaic effect. Photovoltaic power generation employs solar panels composed of a number of solar cells containing photovoltaic material.
Due to the growing demand for renewable energy sources, the manufacturing of solar cells and photovoltaic arrays has advanced considerably in recent years. There will also be space heating using hydronic underfloor water heating system. Solar water heating will be the other method utilised to reduce regular electricity consumption.
Cement, wood and other building supplies used in the building had to contain a certain percentage of recycled material.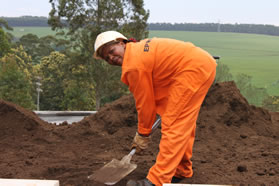 "Things like the bricks have been made locally. So local communities that benefited will want to showcase this building," said Govender.
Local community
For the local community, this project has brought employment – 51 jobs have been created while 113 work opportunities were made available.
Vusi Ndlovu, 33, has been working on the site since January. He is in charge of the tool shed and building material. Every day he distributes tools to his colleagues and also checks that there is an adequate supply of building material.
Electricity on the site is provided through a generator. Ndlovu has been trained to monitor the generator and is happy to have learnt a new skill.
"I am learning a lot, like how to organise tools and about recycling some of the material. I also learnt how the generator works," said Ndlovu.
The young man also takes the initiative to learn every day – once he completes his task, he watches and learns how to do different things.
He is interested in this building because of the environment-friendly elements that have been introduced during the construction process.
Pius Hadebe (30) who is also working for the EPWP, said he has learned a lot from the construction of the green building.
Hadebe works as a carpenter and is pleased that things were done differently for this building, as it offered him a chance to improve his carpentry skills.
Bicycle rack
The site has received 10 positive audits that are conducted by the Environmental Control Officer who monitors environmental impact issues.
The building will have a bicycle rack and shower facilities to encourage employees to cycle to work. The design also caters for disabled people – there is wheel chair access throughout the building.
Govender said her department hopes to come up with a standard design that can eventually be used in government's schools and hospitals.
There are plans for tours to the building during the upcoming COP17.