Written by Mbulelo Baloyi
2011 Year of Performance
In his State of the Nation Address, President Zuma announced that government would start setting up the National Health Insurance (NHI) in order to extend quality healthcare to all South Africans.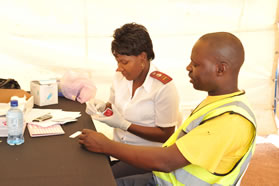 In preparation to the launch of the NHI, the Department of Health has completed an audit of the identified health institutions or sites in 10 districts across the country where the NHI will be piloted first. To this end, the department has published the Green Paper on NHI for comment and a human resource strategy for health has been unveiled. Treasury has set aside R500 million for NHI.
On HIV and AIDS, the Department's HIV Counselling and Testing campaign had, by last June, reached almost 15 million people. The majority (13 million) had been tested at public health facilities.