Written by Mbulelo Baloyi
Presidential Hotline
The Presidential Hotline is still going strong as it continues to help South Africans from all walks of life to resolve problems they experience when dealing with different levels of government.
Ambulance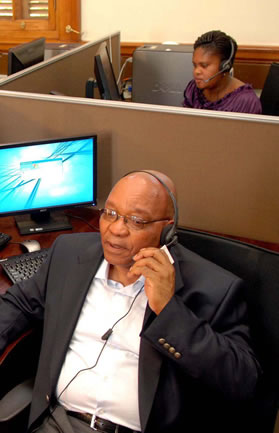 Among the residents whose complaints have been resolved is Paul Moutlwatsi of North West. Moutlwatsi had been complaining to the North West Health and Social Development Department about the lack of ambulance services in his area. He said one morning he called the ambulance to attend to a sick person and it did not arrive.
Moutlwatsi was desperate as he had no other form of transport to help the patient. He contacted the Hotline whose staff approached the North West Health and Social Development Department. They decided to establish a mobile primary healthcare service to the areas where there were no clinics including Moutlwatsi's area.
Basic services
In KwaZulu-Natal, a local resident Bonginkosi Ngubane from KwaNgwanase near Manguzi near the border with Mozambique approached the presidential hotline complaining about the absence of basic services in his village of Velabusha.
Among the services that Ngubane complained about were the lack of tarred roads, electricity, sanitation, health facilities and houses. He also complained that local villagers could not use their cellular telephones as there was no network coverage.
Despite several meetings with the local mayor and councillors, nothing had been done. Hotline staff informed the relevant government departments and the local municipality. Thanks to intervention by hotline staff, water and sanitation services has been put into place and the cellular network has improved.
Ngubane called the hotline to let them know that conditions had improved, especially after the municipal elections in May. He said the newly-elected council was regularly having meetings with the villagers to listen to the community's complaiants and  find solutions to challenges.
For more information, call the Presidential Hotline 17737. Never abuse the hotline; use it responsibly.